I am delighted to welcome you and your family to the Transylvania family. Every year hundreds of parents just like you entrust us with the intellectual, social and emotional growth of their children. It is a privilege we take very seriously, and is, in part, the reason that Transylvania University continues to endure and prosper as a leader in higher education.
We are dedicated to helping all students achieve their full potential. We know that providing families with the information they need is an important part of student success. This section of our website provides helpful answers to particular questions you may have. You'll find additional information in the University Catalog.
We invite you to participate in campus activities throughout the year, including Family Weekend, lectures, concerts, plays and sports events. You can keep up to date through our events calendar and a Facebook page designed specifically for parents and families. By becoming involved in the Transylvania community you will see firsthand the personal attention your student receives here.  
As president of Transylvania, I get to know all of our students; it's an advantage of our intimate campus. I look forward to talking with them informally and supporting their best efforts on stage, in the concert hall, on the playing field and in other venues.
There will be many enjoyable moments over the next few years. But perhaps none will be more rewarding than presenting students with their hard-earned diplomas at commencement. We'll get there together, as members of the Transylvania family.
Welcome to your family's home away from home.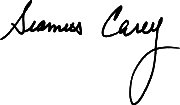 Seamus Carey
President
"I am thrilled that my son chose Transylvania. He has been very happy there, and I feel like he is part of a community and not just an anonymous face in a sea of thousands of faces…. We love everything about the Transy experience."
-- Diane Parr Murray, parent