Fellowship for all faiths.
Are you looking for meaningful fellowship with others? Are you searching for a spiritual home in the Lexington area? Or would you just like to learn more about the diverse faiths represented on campus and in central Kentucky?
The Office of Spirituality and Religious Life, located in the Creative House, advises student-led religious organizations and provides information to students seeking a religious community in the Lexington area.
It also promotes community service, sponsors lectures and conversations about issues such as ethics and social justice and coordinates interfaith services and prayer opportunities.
If you would like to be included on an email list to receive regular updates about these events, contact Emily Miller, director of spirituality and religious life.
Our Affiliation
Transylvania established an affiliation with the Christian Church (Disciples of Christ) in 1865. The history of the Disciples reveals a focus on unity in faith, higher education as a path to understanding and tolerance when faced with differences. Transylvania is proud to embrace these same values.
Join a Student Religious Organization
Baptist Campus Ministry strives to support a growing faith journey on Transylvania's campus through fellowship, community, discipleship, leadership, and mission. BCM meets Mondays at 8 p.m. in Campus Center Room 118. Follow @transybcm on Instagram for updates.
CRU is a student-led campus ministry whose goal is to provide each student an opportunity to respond to the claims of Christ. CRU meets Tuesdays at 9 p.m. in Campus Center Room 118 to eat, be real, and study God's Word. Follow @transycru on Instagram for updates.
Fellowship of Christian Athletes looks to unite faith and athletics through the discussion of God's word. FCA meets Tuesdays at 8 p.m. in Pioneer Room D. Follow @fca_transy on Instagram for updates.
Muslim Student Association is dedicated to bringing together a community where Muslims and non-Muslims can learn about Islam through fostering dialogue, discussion and awareness. MSA meets biweekly on Tuesdays at 5 p.m. in the Multicultural Center. Follow @transy_msa on Instagram for updates.
Transy Interfaith Alliance seeks to create an environment of inclusion for students in all modes of life (religious, nonreligious or anything in between) through embodiment and learning. Interfaith Alliance meets on the fourth Tuesday of every month at 5 p.m. in Creative House. Follow @transyinterfaithalliance on Instagram for updates.
Transy Pagan Student Association looks to provide an open environment for students on Transy's campus to explore or become educated on paganism. TPSA meets the second and fourth Friday of the month at 6 p.m. in the Multicultural Room. Follow @transypaganstudent on Instagram for updates.
Connect With the Community
Transylvania's downtown location means there are dozens of vibrant churches and religious communities for people of all backgrounds within walking distance. Transylvania students are currently involved in Presbyterian, Episcopal, Baptist, Disciples of Christ, and Independent Christian groups in our neighborhood. View a list of local worship services here. If you have any questions or could use some assistance connecting with a community, please contact Emily Miller.
Director of Spirituality & Religious Life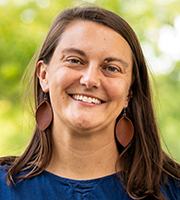 Emily Miller
859-281-3585
emiller@transy.edu
With a growing religious demographic at Transy, Emily works to ensure that students of every religious identity (or no religious identity) are welcomed and affirmed on campus. Emily's work includes guiding the campus into viewing the student holistically in order for each student to succeed. You can contact Emily for spiritual care, conversation, connection or to discuss your spiritual and religious needs. Emily is an ordained minister in the Presbyterian Church (U.S.A.), and has worked in positions for the PCUSA National Office, the local church and higher education, but has found a home in the work she gets to do at Transy. Emily is a native Virginian and graduate of Bridgewater College, and believes that a liberal arts education provides an integral base for students to experience the world and find their place within it. 
Spirituality and Religious Life offers events and programs to meet the needs of students in order to nurture their whole selves during their time at Transylvania. 
As a confidential resource, students, faculty and staff can speak with Emily without the information being shared elsewhere. However, Emily is required to report situations in which she has concerns about someone's immediate safety.