Your foot in the door
Earning a Transylvania degree gives you a graduate admissions advantage through our graduate partnerships with multiple universities.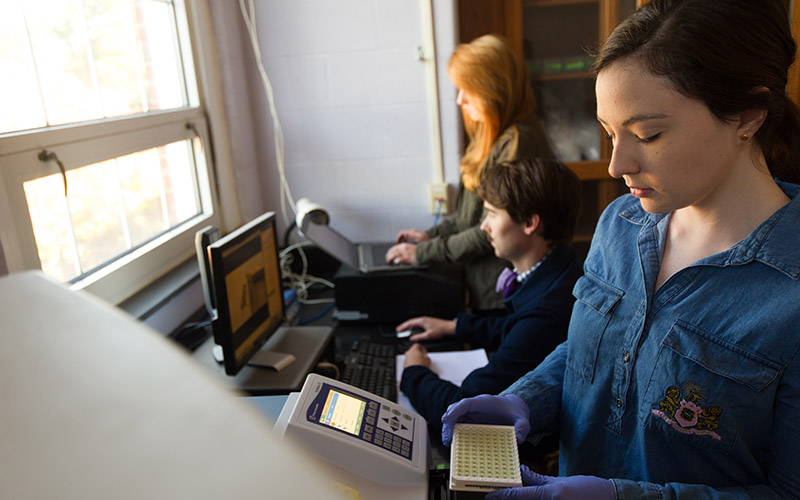 Bellarmine Post-Secondary Educational Partnership
In fall 2023, Transylvania launched a partnership with Bellarmine University to offer discounted tuition for many of Bellarmine's graduate programs, along with opportunities for scholarships and financial aid intended to make graduate school affordable.
The partnership is available to current and future students enrolled at Transylvania, as well as to Transylvania alumni who have completed their most recent degree at the Lexington campus. Transylvania employees are also eligible to participate, with access to many available professional development benefits.
Bellarmine offers more than 30 graduate and accelerated second-degree programs in a variety of disciplines, including business, communication, data engineering, digital media, education, nursing, physical therapy, health professions and clinical sciences.
Engineering
Pre-Engineering
While at Transylvania, you can participate in the pre-engineering partnership with the University of Kentucky, which allows you to take up to six UK engineering courses for no additional cost. It's designed to prepare you to go straight into UK's engineering graduate program, where you can earn a master's in engineering in as little as one year after four years at Transy.
3+2 Dual-Degree
Transylvania also has a dual-degree program with the University of Kentucky. You'll attend Transylvania for three years and the UK College of Engineering for two years, earning bachelor's degrees from both. Degree options include biosystems engineering, chemical engineering, civil engineering, computer science, electrical engineering, computer engineering, materials engineering, mechanical engineering and mining engineering.
Medicine
University of Kentucky Early Assurance Program
Transylvania students can take part in the University of Kentucky's Early Assurance Program. Up to three students each year are assured admission into the University of Kentucky College of Medicine's Northern Kentucky campus—the most recent four-year regional medical school campus for the UK College of Medicine. Through this program, you'll get special perks like exposure to hospital and office practice, shadowing and mentoring from physicians, MCAT preparation and a one-week boot camp to prepare you for medical school.
Lincoln Memorial University Physician Assistant Program
This partnership will give Transylvania University students a healthy advantage when applying to Lincoln Memorial University's selective Physician Assistant Program. The Tennessee school will hold three spots each year for qualifying Transylvania graduates, and Pioneers will receive support throughout the admissions process. The criteria include earning a competitive GPA in prerequisite courses, having worked with patients and providing letters of recommendation. Transylvania graduates will pursue a Master of Medical Science degree through the program.
Pharmacy
3+4 Pre-Pharmacy and Pharm.D.
Transylvania partners with the University of Kentucky on a 3+4 Pre-Pharmacy and Pharm.D. program.
During your three years at Transylvania, you will complete the general education requirements and required UK pre-pharmacy courses, taking at least 27 units of course work while in residence at Transylvania. You will transfer the equivalent of 9 units of credit from the approved courses at UK back to Transylvania as elective credits to complete your bachelor of arts degree in liberal studies from Transylvania University. Because the pre-pharmacy program requires careful planning, students should consult early with chemistry professor Eva Csuhai and continue to work closely with her.
Students must meet the University of Kentucky College of Pharmacy admission requirements to complete this program.
Business
4+1 MBA with UK Gatton College of Business and Economics
This partnership guarantees admission for four Transylvania graduates into the one-year Gatton College of Business and Economics. It also allows for two $20,000 scholarships for Transylvania graduates who meet specific criteria, including a GMAT score of 670 or GRE score of 325 and an undergraduate GPA of 3.5.
Students of all majors are eligible for admission to the program, provided they meet preparatory requirements.
Marshall University Master of Business
While at Transylvania, apply for conditional admission to Marshall University's MBA program, and you can enroll in courses and participate in activities provided by the Marshall University College of Business and receive program advising from Marshall staff and faculty. You can take business foundation courses at Transylvania that, upon earning a grade of B or better, will earn you credit in the graduate-level version of the courses at Marshall.