Class of 2020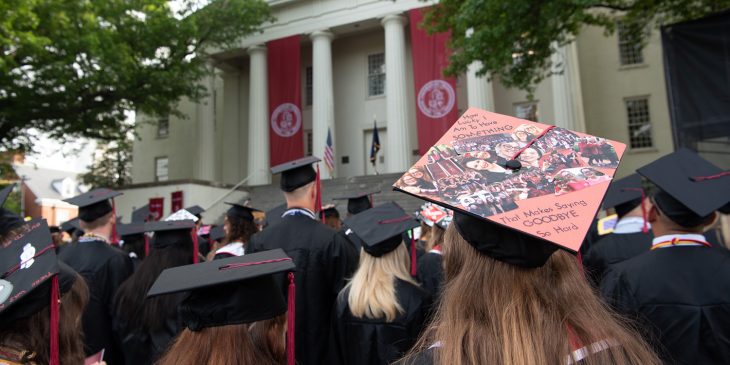 In May, we announced Transylvania would hold an in‑person graduation ceremony for the Class of 2020. We hoped to be able to accomplish this in early September but have not yet set a date for the event. We continue to monitor guidance from the state on public gatherings, and, given the current guidelines, we do not believe we would be able to safely accommodate a large ceremony on campus with hundreds of guests from across the country early this fall. We will continue to look for the best and safest options to celebrate our most recent graduates.
Transylvania University held a public virtual commencement celebration on May 23. More information on how to view the celebration is below.
Read more about Transylvania's COVID-19 response and answers to frequently asked questions about the current status at Transylvania on the 1780 blog.
SENIOR WEEK EVENTS
Tuesday, May 19, 2020
Senior Challenge – Senior Family Feud
7 p.m.
Thursday, May 21, 2020
Senior Toast (seniors and invited toast-givers only, please)
3 – 5 p.m.
Friday, May 22, 2020
Senior Awards
Last Lecture
Presented by Dr. Judy Jones, Professor of Accounting. Dr. Jones is retiring after 40 years of dedicated service to Transylvania University.
Watch Professor Jones' Last Lecture
Saturday, May 23, 2020
Commencement Celebration
Visit the Virtual Commencement Celebration Website
Watch the full Virtual Commencement Celebration Video
Please share your Commencement day photos with us using #TransyGrad. And please share the address www.transy.edu/2020Celebration with your friends and family so they can watch as well.
Alma Mater
"Hail, Transylvania!"
Hail, Transylvania, thine own are we,
Our hearts in loyal love we pledge to thee;
True to thy crimson flag thro' all our days,
Hail, Transylvania! we sing thy praise.
First in the West to rise, seeker of truth,
May He who guides above renew thy youth;
Far thro' the coming years, firm in the right,
Hail, Transylvania! pass on thy light.