Class of 2021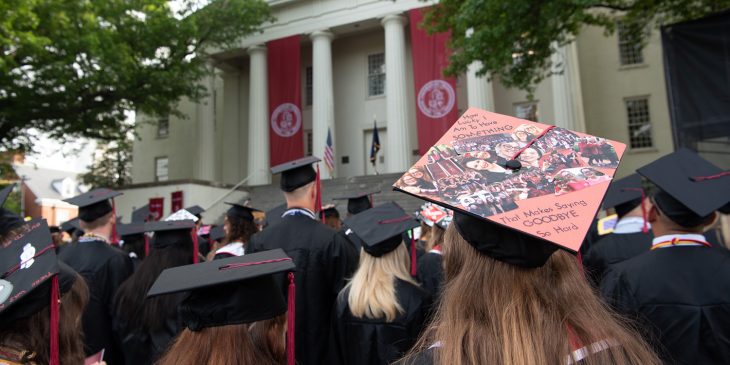 Transylvania University looks forward to celebrating our Class of 2021 with an in-person ceremony that meets state public health guidelines and provides a safe environment for our graduates and guests.
Due to the ongoing pandemic and out of concern for the safety of our attendees, the university will wait until the beginning of May to finalize plans for Commencement. Graduates will be notified when updated information is available. Graduates must RSVP in order to participate this year. The RSVP form will be emailed to seniors when the ceremony format is announced.
For planning purposes only and to ensure appropriate physical distancing at each ceremony, graduates will each receive four (4) general admission guest tickets for the outdoor ceremony. Should the ceremony be moved inside due to rain, each graduate will have two (2) general admission rain tickets to distribute to guests. Moving the ceremony inside will be necessary only if there is inclement weather on the ceremony day; that decision will be made on the morning of the ceremony. Graduates may pick up both sets of guest tickets at the Senior Send-Off event (details below).
The Commencement ceremony will be streamed live for family and friends to watch from home. In addition, a recording of each ceremony will be posted for people to watch at their leisure.
In order to comply with public health guidance and to protect the health and safety of all in attendance, we ask that all Commencement ceremony attendees follow these Healthy at Transy protocols:
All attendees must be masked when on campus. This includes graduates and all guests. Graduates will be able to remove their mask when crossing the stage to accept their diploma. Those not comfortable wearing a mask should enjoy the live-stream or recorded versions of the ceremony from the comfort of their home.
All attendees must follow physical distancing guidelines on campus. This includes not moving ceremony chairs and keeping 6 feet of distance between themselves and others not in their household.
A graduate directory will be available for seniors to upload a photo of themselves and a message they wish to share with their fellow graduates. More details on how to participate will be sent via email directly to each graduating student. Transylvania University held a virtual commencement celebration for the Class of 2020. To view the celebration and for details about how we will recognize the Class of 2020 at an in-person event on Saturday, May 22, 2021, please visit the Class of 2020 Commencement webpage.
Senior Week Events
The format of these events is to be determined, and all plans are subject to change. More information will be shared with students via email and posted here as we get closer to Senior Week.
Tuesday, May 25, 2021
Senior Send-Off
11 a.m.-2:30 p.m.
Alumni Plaza
Senior Challenge
7 p.m.
Thursday, May 27, 2021
Senior Toast
3-5 p.m.
Alumni Plaza
Masks required
Open to graduating seniors only
Friday, May 28, 2021
Last Lecture
3-4 p.m.
Professor Simonetta Cochis
Haggin Auditorium (location tentative and subject to change)
Masks required
Open to graduating seniors only; recording will be posted following.
Senior Awards
4:15-5 p.m.
Haggin Auditorium (location tentative and subject to change)
Masks required
Open to graduating seniors only; recording will be posted following.
Saturday, May 29, 2021
Commencement Celebration
Ceremony details to be confirmed at the beginning of May
Old Morrison Lawn (starting no earlier than 8:30 a.m. and ending no later than noon)
Rain location: Haggin Auditorium
Guest tickets required (all tickets are general admission)
Accessible Services Request
Please share your Commencement day photos with us using #TransyGrad.
Please direct questions to the Office of the Academic Dean: academicdean@transy.edu.
Alma Mater
"Hail, Transylvania!"
Hail, Transylvania, thine own are we,
Our hearts in loyal love we pledge to thee;
True to thy crimson flag thro' all our days,
Hail, Transylvania! we sing thy praise.
First in the West to rise, seeker of truth,
May He who guides above renew thy youth;
Far thro' the coming years, firm in the right,
Hail, Transylvania! pass on thy light.