Class of 2023
Saturday, May 27, 2023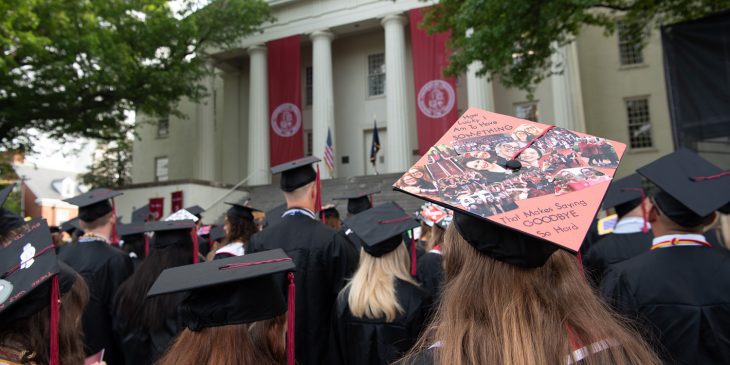 Transylvania University looks forward to celebrating our Class of 2023 with an in-person ceremony that meets state public health guidelines and provide a safe environment for our graduates and guests.
The Commencement ceremony is scheduled to take place on Old Morrison lawn. Guest tickets are not required for this ceremony. Should the ceremony be moved inside due to rain, each graduate will have a limited number of general admission rain tickets (number to be determined in spring) to distribute to guests. Moving the ceremony inside will be necessary only if there is inclement weather on the ceremony day; that decision will be made at 6:00 am on the morning of the ceremony. Graduates may pick up their rain tickets at the Senior Send-Off event (details below).
The Commencement ceremony will be streamed live for family and friends to watch from home. In addition, a recording of the ceremony will be posted for people to watch at their leisure.
Senior Grad Fair
Wednesday, February 15, 2023
10 a.m. – 4 p.m.
Thursday, February 16, 2023
12 p.m. – 7 p.m.
This event will be held in the Transy Bookstore, located in the Campus Center. Seniors will be able to order their regalia packages, announcements, and other commencement-related items. For pricing and other information, please contact the Bookstore at bookstore@transy.edu or 859-281-3570.
Senior Week Events
May 22-26, 2023
The details of these events are subject to change. More information will be shared with students via email and posted here as we get closer to Senior Week.
TUESDAY, MAY 23, 2023
Senior Send-Off
11 a.m.-2:30 p.m.
Alumni Plaza (rain location: Campus Center)
Join us as we celebrate you, our 2023 Senior Class! Lunch will be served by Bon Appetit and seniors can pick up their cap and gown and their commencement guest rain tickets. There will also be treats, valuable information, music, and fun!
Senior Challenge
Details TBD
THURSDAY, MAY 25, 2023
Senior Toast
3-5 p.m.
Campus Center
Open to graduating seniors only.
FRIDAY, MAY 26, 2023
Last Lecture
3-4 p.m.
Haggin Auditorium
Senior Awards
4:15-5 p.m.
Haggin Auditorium
Senior-Family Reception
5-6:30 p.m.
Alumni Plaza
Rain location: Campus Center
SATURDAY, MAY 27, 2023
Commencement Celebration
9-10:30 a.m. (approximately)
Old Morrison Lawn
Rain location: TBD (rain tickets required)
Alumni Welcome Reception
Immediately following the ceremony
Alumni Plaza
Rain location: Campus Center
Ceremony Livestream and Recording
A livestream of the ceremony will be available above – this link will be active the morning of the ceremony. We will also post a recording of the ceremony above following the event.
Parking
Complimentary parking can be found around the Transylvania University campus. Note that a permit is not required on the ceremony day and guests may park in any open lot on campus. The lot at the corner of 4th Street and Upper will be reserved for disabled parking only. If you require access to disabled parking, please return to this site closer to the ceremony date to request it via the link that will be available in this section.
Please share your Commencement day photos with us using #TransyGrad.
Please direct questions to the Office of the Academic Dean: academicdean@transy.edu.
---
Alma Mater
"Hail, Transylvania!"
Hail, Transylvania, thine own are we,
Our hearts in loyal love we pledge to thee;
True to thy crimson flag thro' all our days,
Hail, Transylvania! we sing thy praise.
First in the West to rise, seeker of truth,
May He who guides above renew thy youth;
Far thro' the coming years, firm in the right,
Hail, Transylvania! pass on thy light.