Class of 2021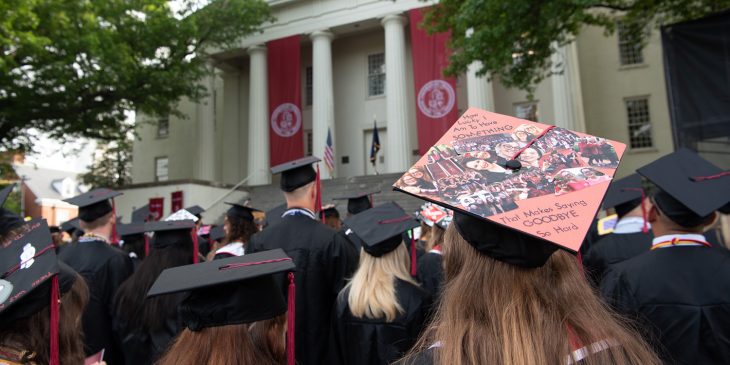 Transylvania University looks forward to celebrating our Class of 2021 with a ceremony that will meet state public health guidelines and provide a safe environment for our graduates and guests. We are currently reviewing several options and will announce the format of the celebration later in the spring when we have a better idea of what may be possible. Once confirmed, Commencement information will be mailed directly to parents and emailed to students. It will also be posted on this webpage and announced on the University's social media platforms. Please make sure you are following Transylvania University to receive updates as soon as they are available.
Transylvania University held a public virtual commencement celebration for the Class of 2020 on May 23, 2020. To view the celebration and for more details about how we will recognize the Class of 2020 at the end of the 2020-2021 academic year, please visit the Class of 2020 Commencement webpage.
Read more about Transylvania's COVID-19 response and answers to frequently asked questions about the current status at Transylvania on the 1780 blog.
Senior Week Events
The format of these events is to be determined. More information will be shared with students via email and posted here as we get closer to Senior Week.
Tuesday, May 25, 2021
Senior Challenge
7 p.m.
Thursday, May 27, 2021
Senior Toast
3 – 5 p.m.
Friday, May 28, 2021
Senior Awards
Last Lecture
Saturday, May 29, 2021
Commencement Celebration
Please share your Commencement day photos with us using #TransyGrad.
Alma Mater
"Hail, Transylvania!"
Hail, Transylvania, thine own are we,
Our hearts in loyal love we pledge to thee;
True to thy crimson flag thro' all our days,
Hail, Transylvania! we sing thy praise.
First in the West to rise, seeker of truth,
May He who guides above renew thy youth;
Far thro' the coming years, firm in the right,
Hail, Transylvania! pass on thy light.