Class of 2023
Saturday, May 27, 2023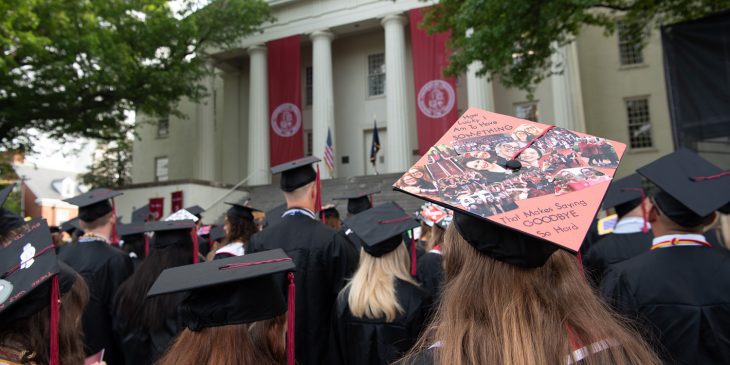 Transylvania University looks forward to celebrating our Class of 2023 with an in-person ceremony that meets state public health guidelines and provide a safe environment for our graduates and guests.
The Commencement ceremony is scheduled to take place on Old Morrison lawn. Guest tickets are not required for this ceremony. Should the ceremony be moved inside due to rain, each graduate will have seven (7) general admission rain tickets to distribute to guests (students who don't need all seven tickets may share their extra tickets with other students). Moving the ceremony inside will be necessary only if there is inclement weather on the ceremony day; that decision will be made at 6:00 am on the morning of the ceremony. Graduates may pick up their rain tickets at the Senior Send-Off event (details below).
The Commencement ceremony will be streamed live for family and friends to watch from home. In addition, a recording of the ceremony will be posted for people to watch at their leisure.
Senior Grad Fair
Wednesday, February 15, 2023
10 a.m. – 4 p.m.
Thursday, February 16, 2023
12 p.m. – 7 p.m.
This event will be held in the Transy Bookstore, located in the Campus Center. Seniors will be able to order their regalia packages, announcements, and other commencement-related items. For pricing and other information, please contact the Bookstore at bookstore@transy.edu or 859-281-3570.
Wednesday, May 10, 2023
7 -9 p.m.
Blue Stallion Brewing
Come learn about the class gift, enjoy some appetizers, and spend time with your classmates. The bar and kitchen will be open for additional purchases.
Wednesday, May 24, 2023
7 p.m.
McCarthy's Irish Bar
Celebrate the last day of classes with Goodfella's pizza and your classmates. This will be your last chance to make your senior gift in person.
Senior Week Events
May 22-26, 2023
The details of these events are subject to change. More information will be shared with students via email and posted here as we get closer to Senior Week.
Tuesday, May 23, 2023
Senior Send-Off
11 a.m.-2:30 p.m.
Alumni Plaza (rain location: Campus Center)
Join us as we celebrate you, our 2023 Senior Class! Lunch will be served by Bon Appetit and seniors can pick up their cap and gown and their commencement guest rain tickets. There will also be treats, valuable information, music, and fun!
Senior Only Event
8-10 p.m.
Southland Lanes
Wednesday, May 24, 2023
President's Circle Senior Donors Reception
5:30-6:30 p.m.
Invitation only.
Senior Challenge
7 p.m.
McCarthy's Irish Bar
Free Goodfella's Pizza!
Open to graduating seniors only.
Thursday, May 25, 2023
Senior Candy Buffet
2:30-3 p.m.
Campus Center Hearth Room
Open to graduating seniors only.
Senior Toast
3-5 p.m.
Campus Center Pioneer Rooms
Open to graduating seniors only.
Friday, May 26, 2023
Last Lecture
Shawn McGuffey '98, Kenan Distinguished Visiting Professor
3-4 p.m.
Carrick Theater
Senior Awards
4:15-5 p.m.
Carrick Theater
Senior-Family Reception
5-6:30 p.m.
Alumni Plaza
Rain location: Campus Center
Registration is required for this event. Graduates and two family members attend free. Admission fee for each additional guest is $20 each. Hors d'oeuvres provided. Beer and wine available for purchase.
Saturday, May 27, 2023
Graduate Group Photo
8 a.m.
Front steps of Beck Athletic Center
Rain location: Haggin Auditorium
Commencement Celebration
9-10:30 a.m. (approximately)
Old Morrison Lawn
Rain location: Beck Athletic Center (rain tickets required)
Alumni Welcome Reception
Immediately following the ceremony
Alumni Plaza
Rain location: Campus Center
Ceremony Livestream and Recording
A livestream of the ceremony will be available at transy.edu/live – this link will be active the morning of the ceremony. We will also post a recording of the ceremony above following the event.
Photography
A professional photographer will capture each graduate crossing the stage and accepting their diploma. A link to these photographs will be posted on this webpage within two weeks of the ceremony and may be downloaded free of charge.
Parking
Complimentary parking can be found around the Transylvania University campus. Note that a permit is not required on the ceremony day and guests may park in any open lot on campus. The lot at the corner of 4th Street and Upper will be reserved for disabled parking only, which can be requested below. An overflow lot is available at the Lexington Traditional Magnet school located at 350 N. Limestone, which is about two blocks from Transy's campus.
Accessibility Services
If you require access to disabled parking, or if you require seating close to the sign language interpreter, please submit a commencement accessible services request (this form was closed on Friday, May 26, at 5:30 pm).
Amenities
Our Gratz Perk Cafe (located in the Glenn Building next to the ceremony site) will open at 8 a.m. on Commencement morning and offer a variety of beverages for purchase. Restrooms are available onsite, located on either side of the ceremony site in the Glenn Building and the Cowgill Building. A medical team is also available in the Cowgill Building.
Accommodations
There are numerous hotels in the vicinity of campus. For more information, please consult our list of nearby hotels.
Please share your Commencement day photos with us using #TransyGrad.
Please direct questions to the Office of the Academic Dean: academicdean@transy.edu.
---
Alma Mater
"Hail, Transylvania!"
Hail, Transylvania, thine own are we,
Our hearts in loyal love we pledge to thee;
True to thy crimson flag thro' all our days,
Hail, Transylvania! we sing thy praise.
First in the West to rise, seeker of truth,
May He who guides above renew thy youth;
Far thro' the coming years, firm in the right,
Hail, Transylvania! pass on thy light.