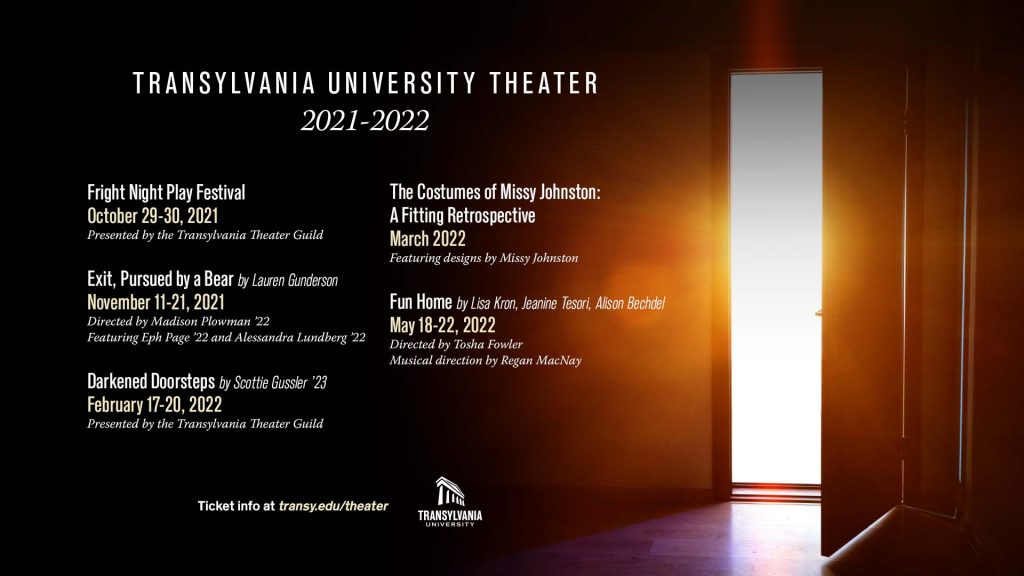 Exit, Pursued by a Bear by Lauren Gunderson
Thursday – Saturday, Nov. 11 – 13, 18 – 20 at 7:30 p.m
Sunday Nov. 14 & 21 at 2 p.m
Little Theater
Directed by Madison Plowman '22 and featuring Eph Page '22 & Alessandra Lundberg '22
In this revenge comedy, Nan teaches her soon-to-be ex a few life lessons with the help of her two best friends. When Simon, a cheerleader, and Sweetheart, a stripper, join forces with Nan, theatrical hijinks mixed with brutal honesty make this a not to be missed event of the fall! Showcasing the talents of our seniors in areas of directing, acting and design.
"It's The Chicks' "Goodbye Earl" meets 9-5."

– WABE, Atlanta's NPR station
A Fitting Retrospective: Celebrating Missy Johnston's Theatrical Career
March 2022
Resident Costume Designer and adjunct faculty member Missy Johnston will be retiring at the end of this school year. Join us in for a look back at 35 years of her creative life in Kentucky. The exhibit will be in Little Theater Lobby through the month of March. A reception will be announced in conjunction with the exhibit at a later date.
Aristophanes' Lysistrata, translated by Diane Arnson Svarlien
A World Premiere Staged Reading Performance
Tuesday, March 8 at 7:30 p.m.
Carrick Theater
Lysistrata is a woman on a mission, rallying the women everywhere to put an end to a devastating 20-year war by denying their husbands' desires. In this ultimate battle of the sexes, Aristophanes' audacious story of an anti-war sex strike is brimming with innuendo and bawdy fun, with soul stirring insights into the folly of war and feminine power. Celebrate International Women's Day at Transy with this world premiere translation by Lexington's own Diane Arnson Svarlien and directed by Marianne Phelps. Warning: Contains Mature Themes
Fun Home by Lisa Kron, Jeanine Tesori, Alison Bechdel
Wednesday – Saturday, May 18 – 21 at 7:30 p.m.
Little Theater
Directed by Tosha Fowler, Musical Direction by Regan MacNay
The winner of five 2015 Tony Awards including best musical, Fun Home is based on Alison Bechdel's best-selling graphic memoir. This groundbreaking production introduces us to Alison at three different ages, revealing memories of her uniquely dysfunctional family that connect with her in surprising new ways.
"Heart-gripping and cathartic, FUN HOME occupies the place where we all grew up."

-The New York Times
Student Theater Guild
Fright Night Play Festival
Friday, Oct. 29th at 7:30 p.m.
Saturday, Oct. 30 at 3 p.m.
Coleman Recital Hall
Transylvania's Fright Night Play Festival features a bright collection of spookily themed five to fifteen minute plays and monologues to celebrate the Halloween spirit of the university. The night will be jam packed with performances, allowing students the opportunity to be the playwright, director, makeup artist, actor and more!
Darkened Doorsteps by Scottie Gussler '23
Thursday – Saturday, Feb. 24-26 at 7:30 p.m.
Sunday, Feb. 27 at 2 p.m.
Little Theater
This new play written by theater major Scottie Gussler '23 is a story of unticking time and what happens when the clocks freeze. When a door opens for teen protagonist Christian, he takes it, leaving the world as he knew it. As he makes his way through a new realm, he meets a cast of characters who help him discover how isolating pain can feel, and the generational patterns of suffering. Overall, Darkened Doorsteps investigates what it feels like to find community in emptiness.