Please note that our giving year begins July 1 and ends June 30. If you have recently moved or changed any of your contact information, please stay in touch with us by updating your information.
---
Automatic Monthly Gifts
Pioneer Monthly Partners (formerly GEM) is a convenient and secure way to give to Transylvania. Giving a little each month can make a huge difference. Here's how it works:
Automatically using our online payment system—Visit the Make a Gift page, choose a project to support and set up your monthly deduction using your credit or debit card. Be sure to check the "Click here to sign up for monthly giving" box.
Electronic funds transfer using a voided check—Download this form and mail it with a voided check to the address below, or call the development office at 800-487-2679.
Online payment through your bank—If you pay your monthly bills online, just add Transylvania University as one of your payees and notify the development office.
Reunion Giving
Each year all classes celebrating their reunion come together to contribute in honor of their time spent at Transylvania. Every gift or pledge you make this year counts toward your class gift. Visit the Reunion Giving page to learn more.
Checks
We welcome checks made out to Transylvania University. You can send them to:
Development Office
Transylvania University
300 North Broadway
Lexington, KY 40508
You may also drop checks off in person Monday-Friday until 5 p.m. in the Alumni and Development Office at 415 North Broadway, Lexington, KY 40508. There is a circle drive in front of our office for easy parking.
Be sure to designate your gift to the "The Transylvania Fund" or other purpose on the memo line.
---
Online Giving
There are two easy ways to support Transylvania online, depending on how you would like to make your gift. You can give using your card or PayPal on our alumni website, or you can give using Venmo, Apple Pay, or Google Pay on our Givebutter platform. If you would like to support a particular area of campus, you may indicate that on either form.
---
Planned Giving
Ensure financial security for yourself and your loved ones while transforming the lives of future generations with a planned gift to Transylvania. Visit the planned giving page to see the options. If you have additional questions please fill out this contact form to get in touch with Diana McKenzie, director of planned giving and associate director of regional advancement, or call her at 859-233-8801.
---
Securities, Tangible Assets or Other Gifts
We would be happy to discuss ways you can help Transylvania through gifts of securities, tangible assets (such as your house) or other items.
Stock gifts can be coordinated through your broker using the information below. Please be sure to email the type and number of shares to giving@transy.edu so we may credit you with the gift.
Legal Name: Transylvania University, Lexington, Kentucky
Federal Employer Identification Number: 61-0444825
DTC #: 0164 code 40
Account #: 4364-1856
Broker: Charles Schwab
Broker Contact:
Steve Whitcomb
Charles Schwab
Lexington, KY
859-788-5201
---
License Plates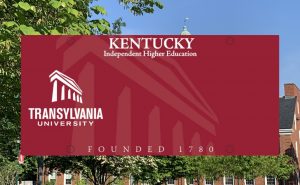 Each year, Transylvania University joins 19 other Kentucky independent colleges in the Battle of the Bumpers, with every Transy license plate sold generating a $10 gift to scholarships. And this year, we're excited to debut a new design and take the top spot again! After losses to Centre and Bellarmine, we need YOUR help to bring home the crown. The initial cost of a Transylvania license plate is $44; renewal is $31. For more information, visit the Transportation Cabinet site and choose Independent College Plates, or call the Alumni and Development Office at 800‑487‑2679.
---
Matching Gifts
Did you know many employers will match charitable donations? Check here to see if you're eligible to double your gift to Transylvania, and make your support go even further. Thank you for taking this extra step to further your gift!
---
If you have questions about any of these options, contact the Development office at 800‑4‑Transy (800‑487‑2679) or giving@transy.edu. Individual staff information is available on our contact page.
Because of your donations, the Transylvania community is impacted for the better. Thank you for your generosity and support.