Alumni Plaza
Write your name in stone on the campus of Transylvania University.
Dear Transylvania Family,
Transylvania's campus has changed substantially over the last decade. We have renovated and constructed numerous buildings, with a new Campus Center providing outstanding gathering sites and services for our student body. Academic, athletic and residential spaces now contain equipment and furnishings reflective of Transy's commitment to excellence.
If you have not visited campus recently, we encourage you to come back. When you do, one space you will not want to miss is Alumni Plaza, formerly known as Haupt Plaza.
The Transylvania Alumni Board and Young Alumni Council groups spearheaded this area's transformation from a concrete pass-through into a gathering area full of welcoming seating, foliage and fellowship. Dedicated in 2015, the site holds engraved bricks and pavers featuring the names of over 400 University alumni and friends who paid for its construction. Academic sessions, events and casual groups of students all occupy the space on any given day. At night, the Plaza glows with lanterns reflecting off the leaves, making it one of the most beautiful spots on campus.
Each year we renew the call to Pioneers to add your name in stone at our institution. Whether you purchase a brick or a larger paver, your message becomes a part of Transy history. Your purchase will also support a scholarship initiated by Alumni Plaza proceeds, awarded annually to an incoming legacy student whose parent, grandparent or sibling has attended Transylvania.
There are still a limited number of bricks and pavers available for purchase.​ Should you have questions after reviewing the directions below, please contact our office. We will be happy to help you!
Yours in Transy Spirit,
The Alumni and Development Staff
Alumni Plaza presents an exclusive opportunity for you to place your name among fellow alumni, faculty, friends and supporters — in the middle of Transylvania's busiest community square. Having your name or the names of family members, friends, business partners, university staff or revered faculty engraved as part of the plaza can be a gift of love, memoriam or school pride.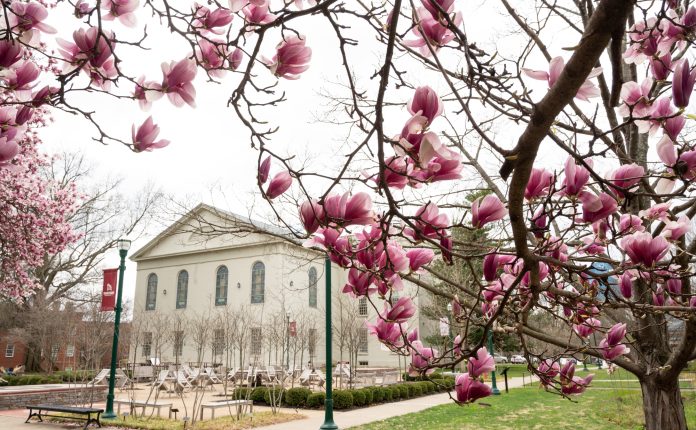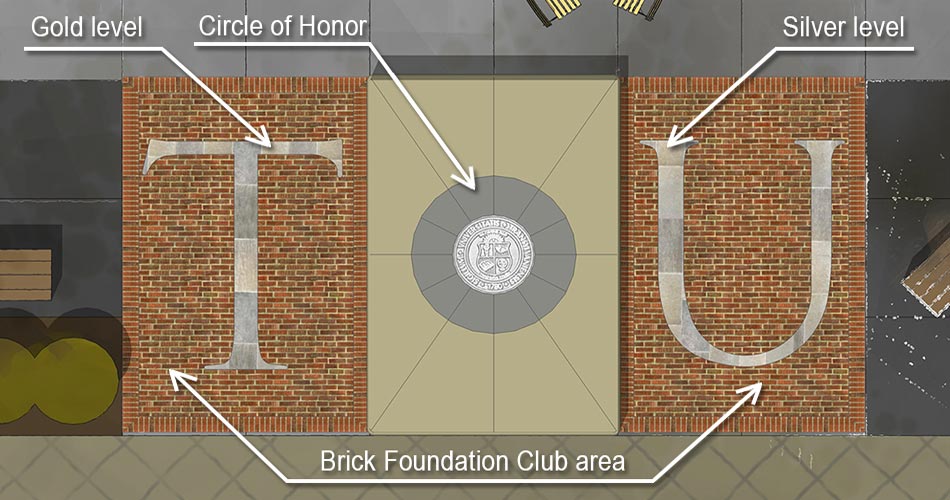 Pioneer Level – $150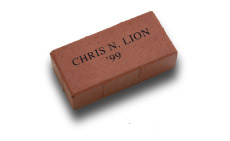 4″ X 8″ brick (up to 3 lines of text, 16 characters each)
Silver Level – $2,500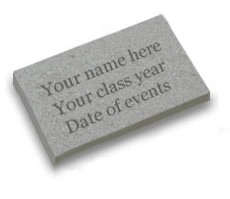 18″ X 9″ glistening white engraved limestone paver located in the "U" (up to 4 lines of text, 15 characters each) plus up to two bricks
White limestone paver availability limited
Gold Level – $5,000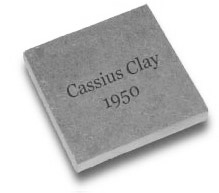 18″ X 18″ glistening white engraved limestone paver located in the "T" (up to 5 lines of text, 15 characters each) plus up to four bricks
Frequently Asked Questions
What is the Alumni Plaza?
The Alumni Plaza is a tribute to the many alumni who share the spirit of Transylvania. It is the vibrant epicenter of campus, filled with a multitude of sitting arrangements where students, past and present, can embrace what it is to be a Pioneer.
Where is Alumni Plaza located?
Alumni Plaza is situated behind Old Morrison in between Haupt Humanities and the Mitchell Fine Arts building.
Who can participate in the Alumni Brick Foundation Club?
The Alumni Brick Foundation Club is a limited-time opportunity for alumni, staff, faculty, friends, business partners and even current students who want to participate.
Why should I participate in the Alumni Plaza Brick Program?
It presents the perfect opportunity to leave a permanent mark on the university that has shaped the lives of thousands of students for over 230 years. Equally important, proceeds benefit the newly created Alumni Legacy Scholarship Fund.
How much is tax deductible?
The donation amount for any participation level in the Alumni Brick Foundation Club is 100 percent tax-deductible and will be confirmed with a gift receipt.
---
Transylvania Alumni & Development staff reserve the right to deny any engraving deemed inappropriate.
For more information, please contact the Alumni & Development Office at 1-800-487-2679.