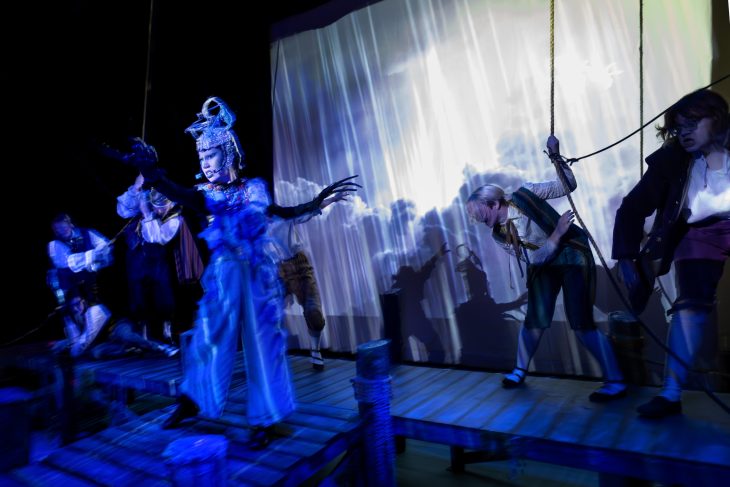 Preparing for Transylvania University's production of William Shakespeare's "The Tempest" has been a magical undertaking for junior Sofia Ricketts. Ricketts, who is pursuing the university's new theater design and technology major, is serving as the production's assistant designer under Daniel Bennett, instructor of theater and production technical coordinator.
Ricketts' responsibilities include serving as the assistant scenic and production designer, leading the paint charge for the play's scenery and serving as the props master and set dresser. Since the play is set on an island, Ricketts put a lot of attention into small details intended to bring the sea ashore in Little Theater.
"Some parts of the island are gross and some are magical, so I've had to think about what 'gross but magical' looks like," she said, adding that the pier and dock used in this staging also offered a unique challenge.
"We've made it so that the pier can split into parts and move about the stage," she said. "There's also a lot of fun projections that we're doing. I'm really excited." 
In addition to her work with Bennett, Ricketts also worked closely with Melissa Gilbert, Transylvania's resident costume designer and instructor of theater, whose designs added an additional layer of texture to the island. 
When creating the show's costuming, "we really got to do some very exciting dyework," Gilbert said, adding, "We have had so many students come into the shop, which has allowed us to put lots of detail into this show."
"There are so many crew members on this show," Ricketts emphasized, noting that theater program director Tosha Fowler remarked that "The Tempest" boasts one of the largest crews she's ever worked with at Transy.
This sizable crew may be due in part to the opportunities Transy gives students who are interested in the "back of the house" aspects of theater to develop their craft.
"I love all of the opportunities that have been created for tech people recently," Ricketts said, noting that while the theater performance major is wonderful, she wants to pursue a career in tech design and production. "I was looking for every opportunity I could find. I chose Transy because I knew I would get the opportunities I was looking for. The classes that are part of the theater design and production major give me all of the experience that I really need. I don't feel like I'm lacking anything."
Gilbert sees the theater design and technology major as an opportunity for faculty to collaborate closely with their students on work that will prepare them for their future careers. "It's much less 'Go get me coffee' and much more 'How do you want to do this?'," she explained. "We're able to really prepare them to take on assistant positions."
Many of the major's required courses include a guided participation component that allows students to transfer what they are learning in class to the university's staged productions. "It's not just classroom work; it's stuff that's more tactile and creative," Bennett added. "That's the way we envisioned the whole major — to make sure that students felt comfortable taking on that next project."
He noted that Ricketts has not just taken on the physical staging of the show, but has also participated in in-depth research to learn how to use new technologies and implement original content. "There's a lot of research and learning new skills," he said.
Ricketts used YouTube tutorials and trial and error to teach herself Adobe AfterEffects, while also incorporating knowledge she gained from the graphic design class she is currently taking into her role as assistant designer.
"I love learning and knowing," Ricketts said. "I like arts and crafts, so I enjoy gathering all of my information and being able to put it into something that is a product that can be viewed and touched, like props."
Her efforts to visually add to an already-rich text have paid off handsomely, according to Bennett. "When I saw the set dressing under lights, I knew we had taken it to the next level," he said. "It's those little details that someone may not notice in the audience, but as people who are seeing it every day, that's the stuff that I think is really cool."
"The audience will only be in the space for two hours, but we want them to really be immersed in the world that our students have been creating," Gilbert added. "Every single thing they see — it's not just one paint stroke. It's all of these layers, all of these hours."

Tickets are still available.The show will run from Nov. 15-19 in Little Theater. Check out the show's teaser video for more information.