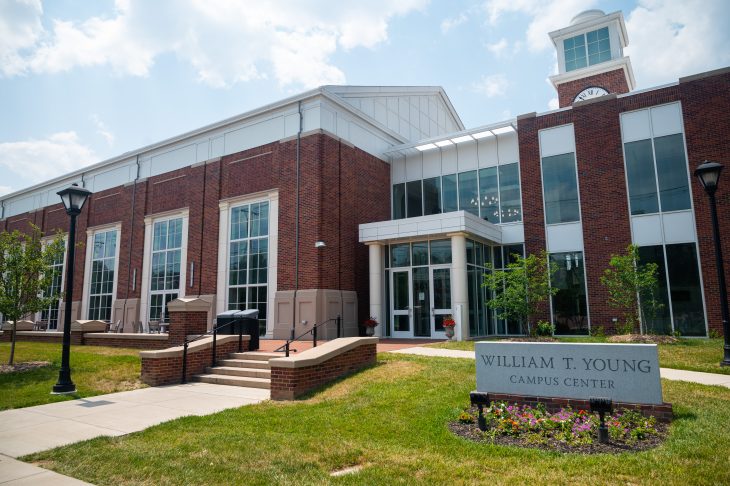 Just in time for the Thanksgiving season, Transylvania University marked the grand re-opening of its food pantry on Nov. 3. Located in the Student Engagement Center on the second floor of the Campus Center, the food pantry supplies canned, shelf-stable and refrigerated foods to any student in need of sustenance. Members of the Transy community donate all of the pantry's food and supplies.
Thanks to the work of Transylvania's development staff, several alumni donors recently provided dedicated funds for the food pantry. Through their generosity, the Student Life team was able to purchase a refrigerator and additional shelving, allowing the pantry to stock more robust food offerings. The addition of a refrigerator allows the food pantry to offer cold foods, such as yogurt, eggs and fruit, as well as frozen meals.
"We are so excited to be able to offer this service to students," said Ashley Hill, associate dean of students and director of student wellbeing. "The food pantry provides nourishing meals and snacks for anyone who is hungry on campus."
Typical items stocked in the food pantry include canned produce, soups, cereals, pastas, granola bars, peanut butter and fresh fruit.
"We try to stock a variety of food so that everyone is included," Hill added. "If you have specific dietary needs, please reach out to Student Life so that we can support you."
As food insecurity continues to be a growing concern on college campuses, the need for food and supplies to stock the pantry continues to grow as well. Those who are interested in donating items can do so by picking up additional foods for the pantry while grocery shopping. Individually wrapped items are preferred, but all donations are welcome.

Contact Student Life with questions or to assist in stocking the pantry.