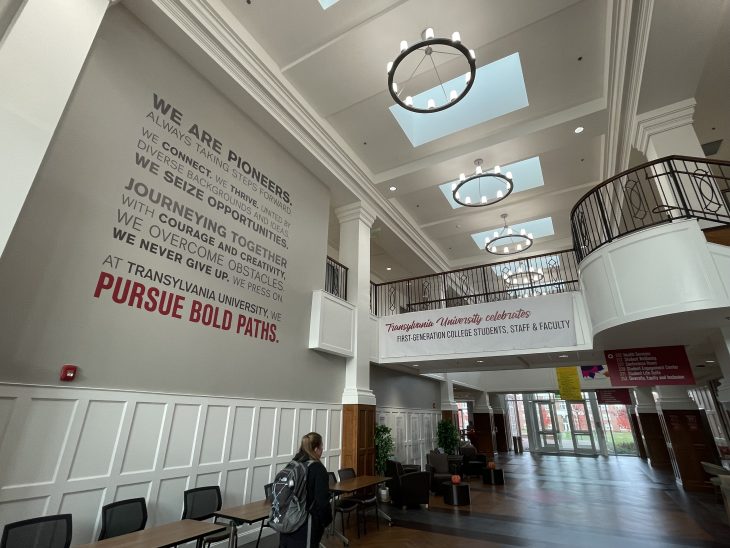 Transylvania recognized its first-generation community members this week with a wide range of activities designed to celebrate their successes as trailblazers.
The definition of "first generation" can be nebulous, but the term is most frequently used to refer to a student whose parents have not attended college.
The unique experience of first-generation students came to the forefront of the national consciousness when President Lyndon B. Johnson signed the Higher Education Act in 1965, providing financial assistance for students pursuing postsecondary education. Today, the National First-Generation College Celebration, known colloquially as First-Gen Day, is held annually on Nov. 8.
On Monday, students, staff and faculty were invited to participate in a first-generation experience video booth. Participants voluntarily shared their experiences as a first-generation student and highlighted the challenges they have faced and overcome. Learn more about their unique stories.
Students were invited to grab some popcorn, as well as a T-shirt, button or sticker celebrating their first-generation status, at Wednesday's First-Gen POP In. Immediately following, Transylvania exercise science professor J.J. Wallace shared the journey from first-generation student to university faculty member.
On Thursday, students gathered in the Hearth Room of the Campus Center to write notes to the people who have supported them as they work toward earning their degrees. Participants in Transylvania's First-Generation Book Club also picked up their free copies of Tara Westover's "Educated," the group's first selection.
The week of celebration concluded with First-Gen Friday, an opportunity for students to wear their first-generation gear and grab a doughnut with their peers and staff in the Campus Center.

For more information about what it means to be a first-generation student, check out the library's book collection.