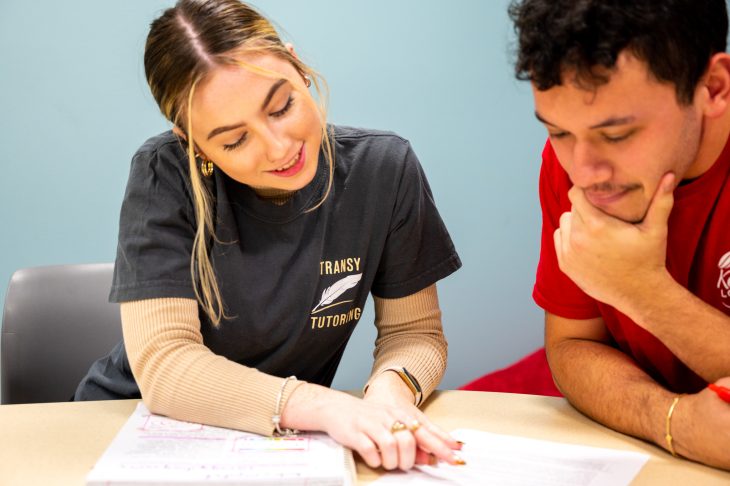 The transition from high school to college is often one of the most challenging times in a student's life. Leaving the structured, predictable world of K-12, where most decisions are made for students, and embarking on an intellectual journey where the paths are varied and the decisions are theirs, can be overwhelming. Transylvania's student support services act as beacons, illuminating available options and providing navigation to Pioneers when the path gets rocky.
The Academic Center for Excellence, or ACE, is probably the best-known form of student support at Transy. Composed of a testing center, tutoring and Embedded Learning Forums (ELF), the ACE is housed in the basement of the library, where it also shares space with the Writing Center.
Director of the ACE Laura Scroggins believes that the center's location is one of its strengths. "The idea is to have a one-stop shop for our students where they can come to get academic support," she said.
Students can take advantage of library services, such as research assistance and access to Special Collections, while visiting the ACE. The space was designed to promote intellectual collaboration, featuring modular furniture, whiteboards and shared monitors. There are also eight smaller study rooms that can be used for one-on-one tutoring appointments or small-group meetings.
"The ACE is a great space — you can work in the common area and then, if you have questions, you can go into tutoring," Scroggins explained, adding that students who find that they need help beyond tutoring can easily transition to ELF, which offers specialized support to help students master course content.
"Typically, in high school, we understand tutoring as something that you do when you're struggling in a class, but tutoring is really something that you do to stay on top of your work," she added, saying that her unofficial motto for tutoring is "come early, come often."
While tutoring services have always been well utilized, Scroggins, who has worked in the ACE for five years, saw a recent boom during the 2022-23 academic year — the pilot year for Embedded Learning Forums. "We surpassed 1,000 visits for the first time," she said, noting that the center recorded more than 1,500 visits between tutoring and ELF sessions.
Some courses have significant utilization rates of both tutoring and ELF, such as Chemistry, which Scroggins cites as the course with the highest rate of attendance for both services. However, some courses lend themselves better to one of the two models, such as Anatomy and Physiology, which was just added to the Embedded Learning Forum rotation this fall. "We had not seen growth when we offered tutoring, but ELF has already had high attendance in just the first two weeks of the semester," Scroggins said.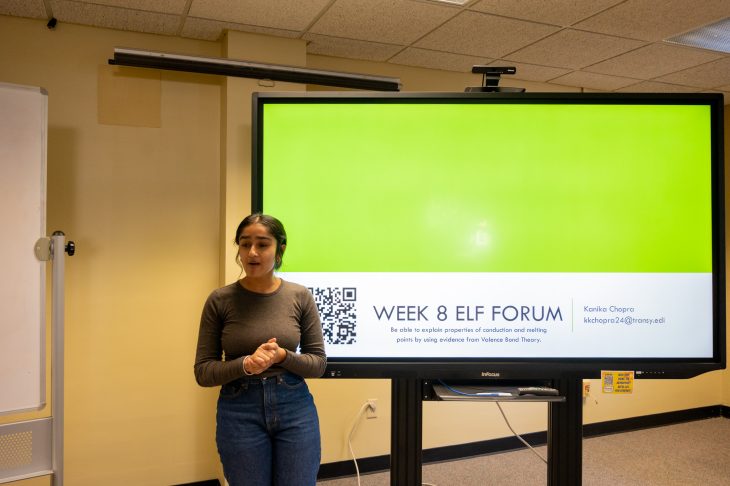 A successful Embedded Learning Forum is dependent in large part on finding a student fellow who can work well with the course's professor and has the ability to communicate and plan effectively for the students who attend the forum sessions. "ELF requires additional planning and structuring," Scroggins said. "It is a relatively new program, so I do hope to see it continue to grow and expand."
Scroggins now oversees a growing team of support specialists that includes Lindsay King, ACE administrative assistant; Angie Morton '06, student accessibilities services coach; and Jillian Shaw '23, ACE evening supervisor. Along with working directly with students in pre-fall programs such as Jumpstart and First Year Engagements, the ACE team tries to advertise their services to all Pioneers — "we emphasize that this is something that successful students do to stay successful."
In addition to the services ACE currently offers, Scroggins hopes to bring student accessibility services under the ACE's auspices in the near future. "With student accessibility services, we're working with an ever-growing population of students," she said. "We hope to continue to meet their needs by expanding the testing center and expanding our ability to offer individual coaching."
Another campus department currently serving students through individual coaching is Student Life, where Jessie Rowe is embedded as a student success coach. Rowe, who began working at Transy in 2023, sees her role as a connector. "I'm here to be a facilitator to connect students to resources," she said, adding that sometimes that means being a safe person to whom students can vent.
Rowe, who recently implemented the university's grant-funded Jumpstart program, previously worked in higher education admissions, where her experience working with nontraditional students prepared her for this new role. "I liked getting creative to work to find solutions to their problems," she said. Her current role as a student success coach allows her to use those creative problem solving skills to connect with students who might be struggling yet still flying under the radar.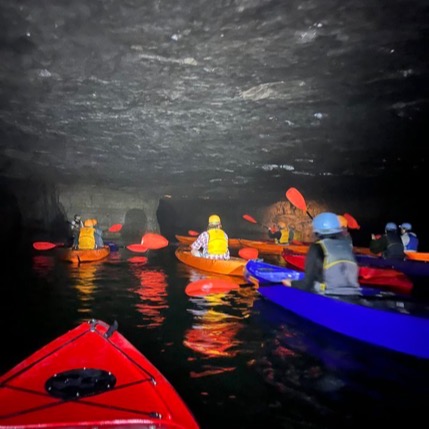 While any student can form a connection with Rowe, she primarily serves as an interdepartmental liaison, working with colleagues across campus to make sure that no student falls through the cracks. "A variety of departments refer students to me, whether I'm asking for a list of students who are struggling in class or students who are potentially withdrawing," she said.
Rowe also serves as a member of the campus CARE team and pays special attention to populations that might be historically overlooked — such as commuter students and sophomores — in addition to continuing to work with the Jumpstart students. However, she notes that any student can benefit from student success coaching — as long as they know it exists.
To that end, Rowe has been working to familiarize students with the concept of success coaching. "At a smaller school, I think it's important to connect with your people," she said, noting that students can talk with her about their academics or about anything else that's on their mind. "I'm very happy that students are starting to pop in and just talk about their day."
As a conduit between departments, Rowe wants students to know that, if she can't find a solution for their particular problem, she will make sure that they are connected with someone who can. "I've learned that we all really work together," she said. "The more people that can connect with students, the better."
Rowe hopes to be able to expand her services to student organizations as well as individual students in the future. "There's a big team of support here for them," she said. "We are all here to watch them succeed."