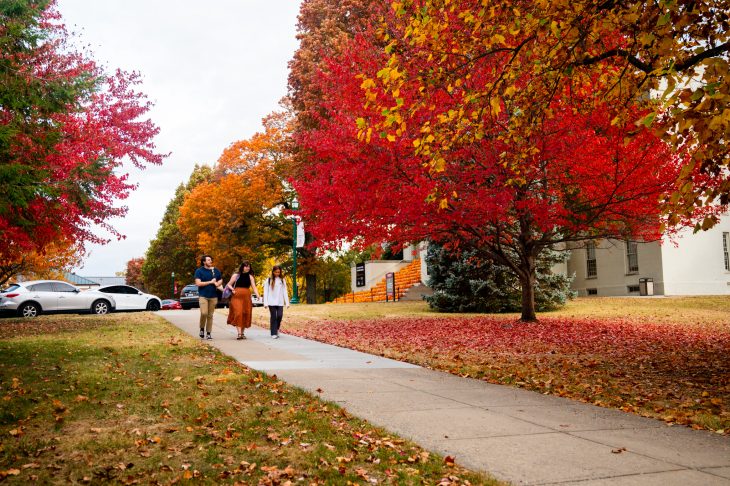 Like the villain in a favorite scary movie, Transylvania's first application deadline is fast approaching this Halloween. High school seniors and transfer students who are interested in joining the Class of 2028 can submit their application by Oct. 31, the first of the university's two early action deadlines.
Transylvania Director of Admissions Julie Sams recommends that all applicants visit campus as part of their college decision process, and Transy's gorgeous fall foliage is a beautiful reason for potential applicants eyeing the Oct. 31 deadline to make a campus visit this month. However, future Pioneers who enjoy the spookier side of things may also want to sign up for one of the university's more unique offerings — a Tomb Tour.
Offered Oct. 23-28 and 30-31, each Tomb Tour starts in Old Morrison, the campus' administration building and home to the crypt interring Constantine Rafinesque, former Transylvania professor and renowned botanist. Visitors will be allowed to go inside the crypt to view Raf's tomb and learn more about this eccentric Transylvanian.
From Raf's tomb, visitors will have the opportunity to explore the rest of campus on a 90-minute tour. All campus visits also include a 30-minute meeting with admissions staff, while optional activities may be added by request.
Students who elect to visit on Oct. 30 or Halloween will also be treated to the university's 2023 PumpkinMania display, which will line the steps of Old Morrison from Oct. 29-Nov. 2.
"If you're looking for a campus visit you will never forget, this is it," Sams said. "This unique campus tour experience is unlike most college tours, and because we're Transylvania, our first application deadline is easy to remember — Oct. 31."
Students who apply by this date will receive priority consideration for both admission and scholarships, and will be notified of admission and scholarship decisions by early December.
Register for a Tomb Tour, and don't let the Halloween application deadline scare you — life as a Pioneer is a true treat. Apply today to be part of the Class of 2028.