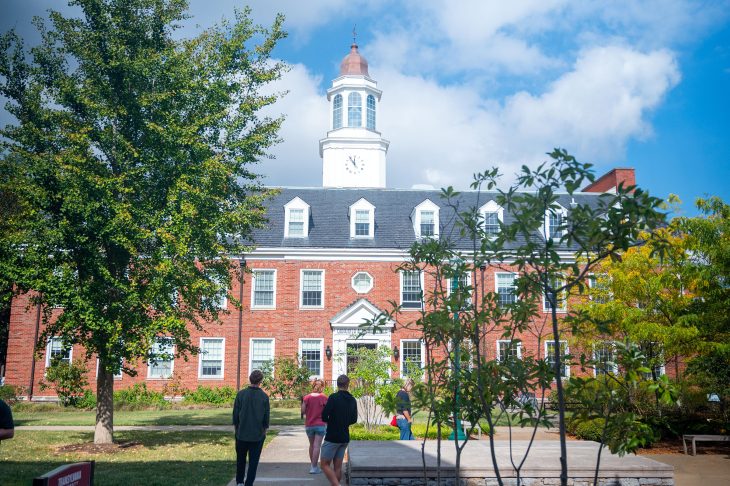 A substantial gift from the estate of William R. "Bill" Stamler Jr. will create a new endowed professorship at Transylvania University in either English or theater. Named in memory of Mary Buford Hodges Stamler, a 1925 graduate of Transylvania, the gift recognizes excellence in teaching at Kentucky's first university.
"Dad made this gift to honor the faculty and foster their teaching and student relationships, both of which are cornerstones of the Transylvania experience," said Rose Mary Dow '88, daughter of Bill Stamler and a current member of Transylvania's Board of Trustees.
"Dad believed in the value of a liberal arts education because the discipline teaches thinking, reasoning and the appreciation of beauty. He always said his liberal arts education taught him to think and to live better," Dow added.
President Brien Lewis said, "In conjunction with the Bingham Fund's commitment to awards for teaching excellence and the Haggard professorship in mathematics announced last spring, this gift from the Stamler family is a part of a tremendous and timely underscoring of Transy's enduring academic quality."
The gift was announced at the fall meeting of the Transylvania Board of Trustees on Friday, Oct. 20.
"Transylvania was transformative for grandmother and me," Dow said. "Dad recognized that, especially in me. He credited the education, guidance and opportunities provided by Transylvania's faculty."
Stamler, who passed away Feb. 8, served as a past chair of the Transylvania Parents Council and, in 2009, received the Transylvania Medal for Distinguished Service. He also served on the boards of his alma mater, Sewanee (which honored him with its Distinguished Alumni Award in 2016), and of Alice Lloyd College.
Mary Buford Hodges Stamler was involved with theater organizations, literary societies and honoraries at Transylvania, as well as Tri Delta sorority, before serving as a teacher in Jefferson County and Cincinnati. She generously left Transylvania a scholarship for a student pursuing the ministry.