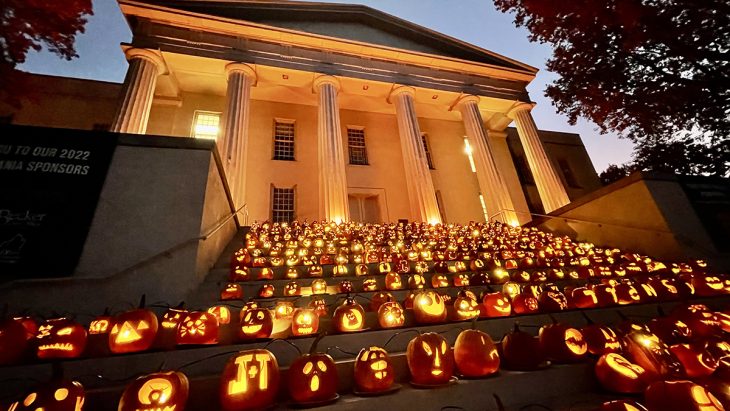 The start of a new school year means we'll soon enjoy colorful foliage, crisp breezes and pumpkins — lots of pumpkins.
To help the Lexington community get into the spirit of the season, Transylvania University seeks sponsors for its 13th annual PumpkinMania.
The event features a community carving Sunday, Oct. 29, along with food trucks and children's activities from noon to 4 p.m. Then, more than 500 of these jack-o'-lanterns will glow on the steps of historic Old Morrison each night through Nov. 2.
Tickets for carving will be available soon.
To help make this PumpkinMania as frightfully fantastic as possible, Transylvania invites community businesses and organizations to join in as sponsors. Email Susan Ware '84, senior director of donor engagement, if you're interested.
"Supporting PumpkinMania is a fun way to take part in a Lexington Halloween tradition," Ware said. "Our sponsors connect with a variety of audiences who eagerly look forward to the event each year — from young families with children to grandparents to college students."
Current sponsors include BimGroup, Commonwealth Credit Union, The Scout Guide, Hits 106.3 and 96.1 The Hound.
For this year's jack-o'-lantern display, Transylvania is sourcing the pumpkins from Black Soil and Cleav's Family Market.