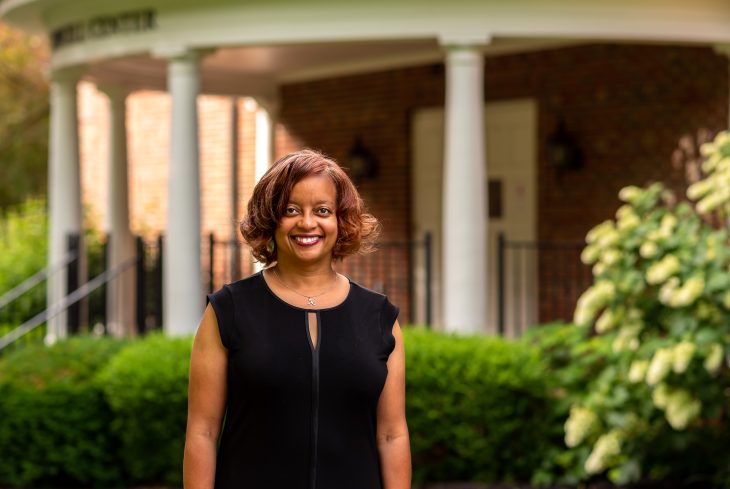 Tiffany Wheeler '90 is a sterling example of giving back to your alma mater. A long-time Transylvania faculty member and university employee for nearly 22 years, Wheeler was recently named the newest associate dean for academic affairs.
"As an alumna of Transy, this opportunity allows me to serve Transy in a different capacity than I have previously and to have a broader impact at the institutional level," Wheeler said.
In her new role, Wheeler is responsible for supporting the academic success of Transy students. She collaborates with the Academic Center for Excellence, connects students with resources such as the Writing Center and Transy Tutoring, and serves as the academic affairs representative on the Campus Awareness Response and Evaluation team.
"I had such a positive experience as a student, and I want students to realize that — even when they struggle or encounter some obstacles — we have many resources on campus, including our outstanding faculty and staff," she noted.
Additionally, Wheeler directs and assesses the Quality Enhancement Plan for Transylvania as part of its SACS accreditation and works closely with her faculty colleagues to provide advising training and select faculty to teach First Engagements.
Wheeler not only has experience educating students, but she also has the unique experience of educating students to be educators themselves. In addition to the responsibilities of her new role, the associate professor of education remains committed to teaching and researching, despite her busy schedule. This fall, she is teaching EDU 3414: Race, Ethnicity and Social Class in U.S. Education while working on a collaborative book project with colleagues from three other institutions.
"Our research focuses on the importance of helping teachers become more culturally responsive by developing processes for engaging in deep self-reflection about their perspectives and lived experiences related to equity, diversity and inclusion," she explained.
Wheeler has long prepared Transylvania students to deeply engage with their communities in a spirit of service — an area in which she leads by example.
"Making a positive impact on my community is really important to me," Wheeler said. She currently serves on the Board of Directors for Step by Step Lexington, an organization that provides services for young single mothers ages 12 to 24. She initially became involved with the organization through mentoring a young mom several years ago.
"It was a transformative experience, as I was able to witness firsthand the challenges that young single moms face in Lexington, including a lack of affordable housing, food insecurity and limited child care options," Wheeler recalled. "The moms in the program are so impressive and resilient, and it has been deeply rewarding to see them reach personal goals, such as going to college, buying their own homes, serving as leaders in Step By Step and securing their dream jobs."
Wheeler also serves as a member of the Mass Choir and a children's ministry leader at New Vine Baptist Church, a role that allows her to blend her education background with her commitment to serving the community.
Wheeler has recently received recognition for her student-centered service on a national level. Omicron Delta Kappa, the national leadership honor society, selected Wheeler as a 2023 recipient of the Eldridge W. Roark, Jr. Meritorious Service Award in recognition of her long tenure as an adviser for the Transylvania University Circle.
She also recently joined the Bluegrass Tomorrow's Academic Leadership Academy, a joint initiative between the Council on Postsecondary Education and the Bluegrass Higher Education Consortium that offers participants professional development training and mentoring by institutional leadership.