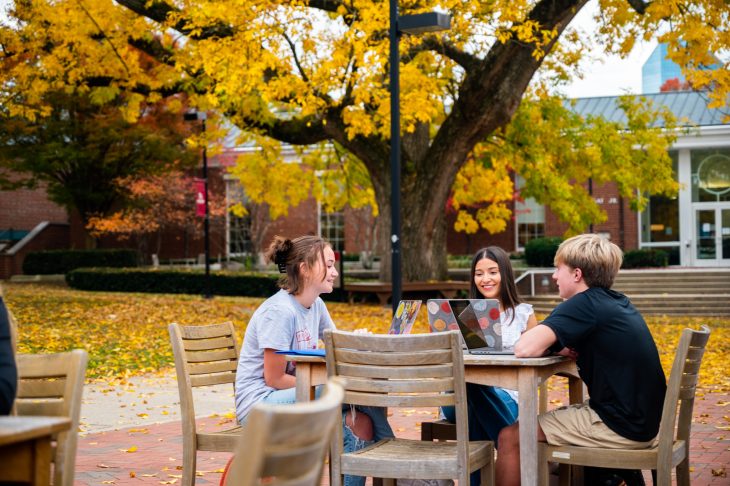 A new partnership between Transylvania University and Bellarmine University ensures Transy graduates can remain in Kentucky to pursue graduate school through guaranteed admission at Bellarmine.
The collaboration between the two premier independent Kentucky universities includes discounted tuition for many of Bellarmine's graduate programs, along with opportunities for scholarships and financial aid intended to make graduate school affordable.
"A Transylvania degree has always given our students a strong foundation heading into graduate school programs across the country. With our Transylvania-to-Bellarmine partnership, our students and employees can take advantage of a wide range of degree programs right here in Kentucky," said President Brien Lewis. "I'm excited by the opportunities this provides to educate the next generation of Kentucky's leaders and the potential to keep them engaged in our communities."
The partnership is available to current and future students enrolled at Transylvania, as well as to Transylvania alumni who have completed their most recent degree at the Lexington campus. Transylvania employees are also eligible to participate, with access to the many available professional development benefits.
Bellarmine offers more than 30 graduate and accelerated second-degree programs in a variety of disciplines, including business, communication, data engineering, digital media, education, nursing, physical therapy, health professions and clinical sciences.
"We are pleased to partner with Transylvania to offer their graduating students a preferred pathway to pursue advanced degrees here in the Commonwealth of Kentucky," said Bellarmine President Susan M. Donovan. "Whether they are studying online or on our campus in Louisville, this collaboration will help us educate and retain talented future leaders who will be well equipped for lives of leadership and service in our Kentucky communities."
Transylvania students interested in pursuing the partnership program with Bellarmine must meet all requirements for admission eligibility and verify that all criteria have been satisfied with a partnership liaison.
For more information, please contact Tim Sturgeon at tsturgeon@bellarmine.edu or visit transy.link/bellarminegradprograms to learn more.
About Transylvania University
Transylvania University, located in the heart of downtown Lexington, Kentucky, is a top-ranked private liberal arts college featuring a community-driven, personalized approach to a liberal arts education. Founded in 1780, it is Kentucky's first college and the 16th oldest institution of higher learning in the country, with approximately 1,000 students.
About Bellarmine University
Located in the historic Highlands neighborhood of Louisville, Kentucky, Bellarmine University is a vibrant community of educational excellence and ethical awareness that consistently ranks among the nation's best colleges and universities. Founded in 1950 under the Roman Catholic Archdiocese of Louisville sponsorship, Bellarmine serves more than 2,300 undergraduate students and more than 600 graduate students.