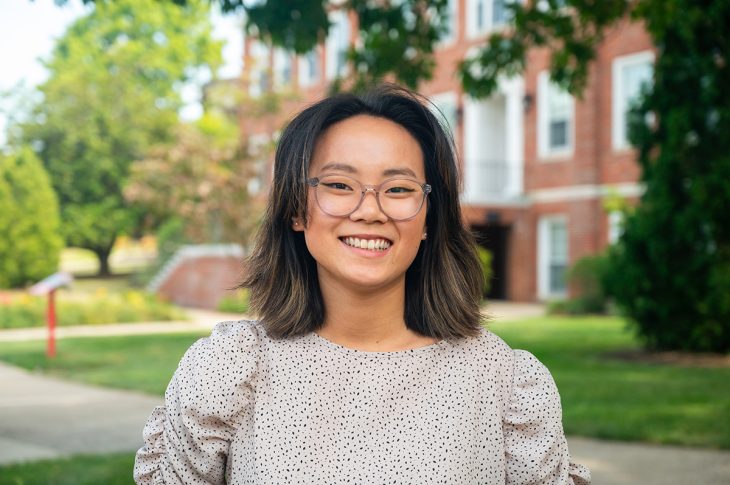 Going off to your first year at college is always an adventure, especially if it's out of state.
In fact, Makayla Jordan of St. Charles, Missouri, recently found herself kayaking through a Kentucky cave with her classmates — and school hadn't even started yet.
The first-year student was taking advantage of Transylvania University's Jumpstart college preparatory program, funded this year by the Council on Postsecondary Education.
The program was one of many ways Jordan has been getting acclimated to her new campus life.
When she was looking for a college, Transylvania landed on her radar because of her interest in Asian culture — she was impressed with offerings like the Chinese language program. "I've always wanted to connect back to my roots, and that was an important factor to me while I was looking for a university," said Jordan, who was born in the Jiangxi province before being adopted.
Jordan, who's currently minoring and possibly eventually double majoring in Chinese, hopes to return to the country after learning the language (her roommate speaks it, which is helpful).
The Pioneer is also majoring in business — and she's enjoying her Chinese I class with professor Qian Gao this term. She's minoring in art as well, having gotten to know Kevin Kwon, a new visiting assistant professor of art who was born in Korea.
Jordan is excited about joining clubs like the Asian Student Alliance and rekindling her interest in chess, which she hasn't played since middle school. Between her home-schooling and work over the past few years, she was too busy to do much else. She was editor of her home-school tutorial her junior and senior years and dual enrolled all but her first year at a small private school.
"Since I worked so hard in high school, I would love to find more of a balance between my school, work and social life here at Transylvania." she said.
To this end, Jordan may take up ballroom dancing, as it's part of a physical education course refresh that encourages students to develop lifelong skills and engage with people in their communities after graduation.
This spirit of engagement has already benefited the Missourian — who lived in Nashville before high school — since her recent arrival in Lexington. She made good friends during Jumpstart, where, besides kayaking at Red River Gorge, they bonded during jaunts to coffee shops and at a game night in the esports arena, among other events.
"I have been on campus for a month and already feel so at home and cared for by the staff and my new friends," she said. "I am really excited to see what Transylvania has in store for me next."