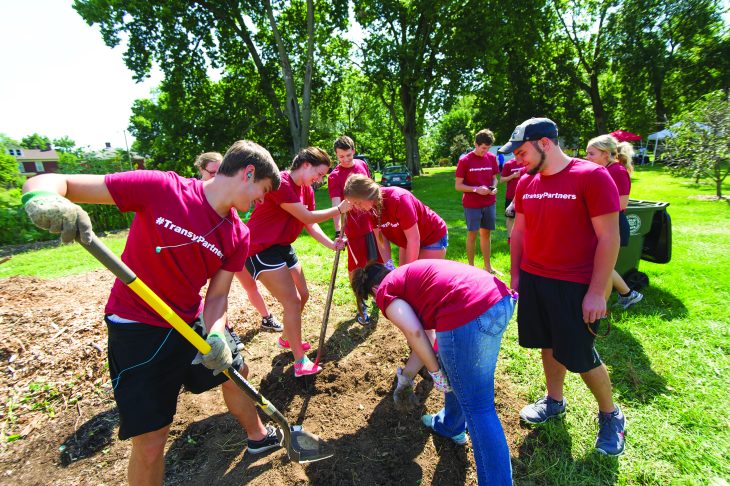 Transylvania University recently received the 2023 Leading Colleges Award for Social Justice. Transylvania was one of only 27 colleges and universities in the United States and Canada to receive this designation. The awards were given to institutions based on their "attention to social justice and their role as an agent of change." Transylvania was the only institution in the Commonwealth to receive a Leading Colleges award in any of the organization's four categories — recruitment, retention, outcomes and social justice.
"Transylvania was selected for this award because of its great work creating a student-centered, inclusive community for all students," said Teege Mettille, founder and managing director of Leading Colleges. "The campus community at Transylvania is welcoming and inclusive thanks to intentional efforts by the faculty and staff."
Transylvania has long been known for its commitment to social justice. Recognized previously as a top 10 liberal arts college for community service, the campus' location in the heart of downtown Lexington provides students, faculty and staff with ample opportunities to partner with local organizations to build a better city.
Transylvania students have historically been involved with local, regional and national nonprofits, including Habitat for Humanity, Carnegie Center for Literacy and Learning, Kentucky Refugee Ministries and the Nest Center for Women, Children, and Families.
The university's Office of Campus and Community Engagement also connects students with time-bound service opportunities, including Alternative Winter and Spring Break experiences.
Leading Colleges is a membership organization of institutions that have been certified by an independent review committee to demonstrate excellence in recruitment, retention, outcomes and social justice. The organization's goal is to assist high school and independent counselors in their quest to identify student-centered colleges and universities.