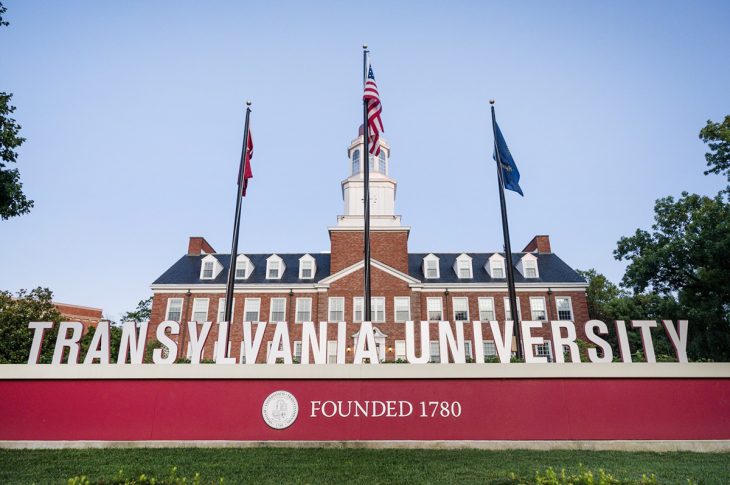 The Princeton Review's annual "Best Colleges" guide released today ranks Transylvania University among the top 15% of the nation's schools.
The publication highlights Transylvania's academics, campus life, welcoming student body and ideal location. It also ranks the school among the best in the South.
"Our selection of colleges for this book reflects our high opinion of the schools: we recommend each one as academically outstanding," said Rob Franek, editor-in-chief of the Princeton Review and lead author of "The Best 389 Colleges: 2024 Edition."
The Princeton Review also surveyed Transylvania students. They said, for instance, that they love Lexington and its widely available internship opportunities. They're also encouraged to participate in classroom discussions, and they praised the brilliant, dedicated faculty who take an interest in their lives and classes that "require you to think deeply and critically."
While their main focus is on academics, Pioneers are engaged in a variety of campus activities as well — from attending an interesting talk to movie night. "It is pretty easy to lead a fun and robust life at Transylvania," said the Princeton Review. The guide goes on to mention the "big draw" of athletics (the women's basketball team won this year's NCAA DIII national championship) and how there are a "ton of neat places within walking distance" of campus. Plus, the publication ranks the university No. 6 for having robust fraternity and sorority life.
Transylvania students also find an accepting, friendly atmosphere among their classmates. "Of course, the best aspect of Transy's student body is the fact that 'anywhere you go you can always find a friend or at least some people that are easy to talk to,'" according to the guide.