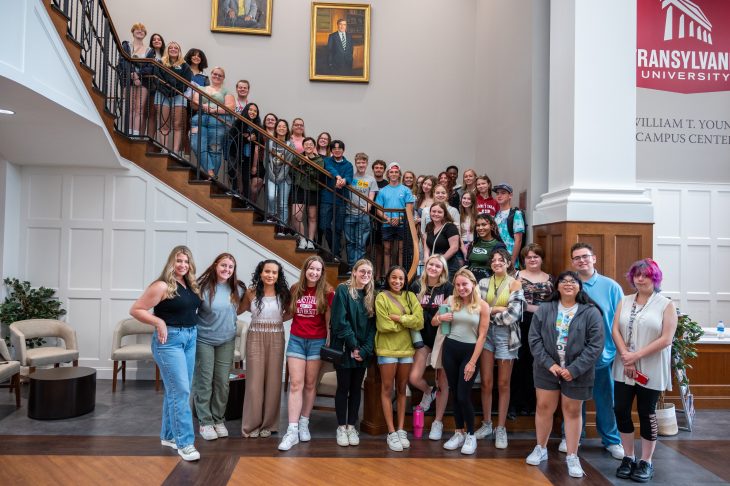 Several members of Transylvania's Class of 2027 moved to campus last Sunday for a pre-semester "Jumpstart" as part of the university's new college preparatory program. Supported by grant funding from the Council on Postsecondary Education, Jumpstart is an initiative designed to help incoming Pioneers transition to college.
The initial Jumpstart cohort consists of 37 first-year students who were nominated to participate in the program by Transylvania staff members. The group is supported by Student Success Coach Jessie Rowe, who oversees the completely free program, and four student leaders.
"The leaders are very passionate about it and are planning lots of fun things to make the students feel welcome," Rowe said, explaining that each leader will be responsible for a cohort of roughly 10 new students. Leaders will also fully run some of the program's events — including icebreakers — forming bonds with the new students to give their incoming Pioneers "another go-to contact person" in addition to their First Engagements scholar.
On-campus Jumpstart events range from a study abroad-sponsored breakfast featuring international breakfast foods to a game night in the library. Students will learn about campus resources, attend a mock lecture and participate in a tutoring session — allowing them to "put names to faces" before the semester officially begins.
"This helps incoming students build additional connections," Rowe said, adding, "We want them to be comfortable opening up."
To that end, there's a lot of fun built into the five-day schedule as well. Jumpstart participants will take a day trip to the Gorge Underground, where they will enjoy pizza at local favorite Miguel's and tour the Kentucky cave in a pontoon boat and kayaks. They will also make a spooky visit to the Old Morrison administration building's tomb, which is believed to house former professor Constantine Rafinesque.
The program will conclude on Thursday evening with dinner with President Brien Lewis, and participants will join the rest of their classmates on Friday as First Engagements, the university's new student orientation program, begins.
With help from CPE grant funding, Rowe hopes to maintain and even grow Jumpstart in future years, saying, "We definitely plan on reapplying and tweaking the program accordingly. We think it will be a good initiative, and we hope to continue doing it."