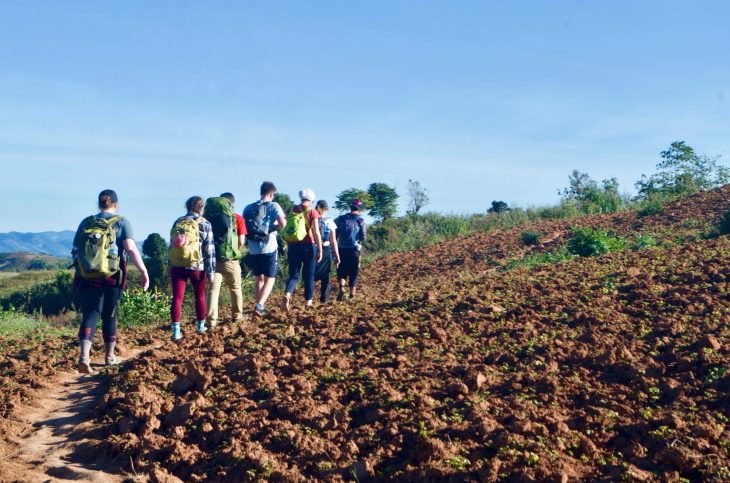 Transylvania University's Peace Corps Prep program was recently renewed for the next five years by the U.S. service organization. Initially established by Transylvania Associate Professor of Political Science Steve Hess, the co-curricular program recruits and prepares students to serve in the Peace Corps after graduation through a combination of coursework, community service and professional leadership training.
Per the Peace Corps, the organization's mission is to promote world peace and friendship by fulfilling three goals — to help interested countries by meeting their need for trained volunteers, to promote a better understanding of Americans on the part of the people served, and to help promote Americans' understanding of other peoples.
Five Transylvania graduates have joined the Peace Corps since the Peace Corps Prep program was established in 2018 — a particularly impressive number as the Peace Corps was fully shut down for nearly two years due to the COVID-19 pandemic. Former participants have been placed in Costa Rica, Senegal and Uganda, while the two active volunteers, Langley Sebastian '23 and Clay York '21, are serving in Cameroon and Guinea, respectively.
Hess — who served alongside his wife, Transylvania's Director of Tutoring and ESL Laura Scroggins, as a Peace Corps volunteer in China from 2006-08 — joined Transylvania's faculty in fall 2017. With prior experience founding the University of Bridgeport's Peace Corp Prep program, he immediately began a proposal to establish a Peace Corps Prep program at Transylvania, securing the initial program agreement in spring 2018.
The program renewal process required Hess, along with program co-coordinator and Director of Global and Intercultural Engagement Rachel Wilson, to return to the original agreement and gather data points related to the program's successes and challenges within its first five years. The renewal went so smoothly that Hess was invited to give a presentation about best practices for recruiting and retaining students this fall at the 2023 Peace Corps Coordinators Conference in Tacoma, Washington.
"In the renewal process, the Peace Corps is really interested in diversity and inclusion, so they place a big emphasis on how you are reaching underrepresented communities in your recruitment process," Hess said, noting that Transylvania's diversity, equity and inclusion office has partnered with the program in past years to reach out to students who are involved with the campus's Multicultural and International Student Organization and Black Student Alliance.
"The Peace Corps is looking for a lot of the kinds of students that we have," he explained, adding that students who major in pre-health disciplines, psychology and health and exercise science are often good candidates for the work done by the Peace Corps. In addition to these majors, Hess often finds potential volunteers in international affairs and political science classes. "We have a lot of students who are really curious about the world," he said.
Transylvania's emphasis on community service naturally lends itself to a large number of students who are interested in serving in the Peace Corps. "The Transy student is usually a student who is from Kentucky but wants to get a different experience," Hess said, adding: "We are very blessed to be an urban campus, so our students have lots of opportunities to walk off campus and engage a really diverse and multicultural community. There's lots of opportunities for our students to go out there and do good things."
The Peace Corps Prep program tends to also attract students who opt to study abroad — making Wilson, who manages the university's study abroad program, an ideal resource for these potential volunteers. On a small campus, information commonly spreads via word of mouth, and knowledge of the Peace Corps Prep program is no different — "our biggest recruiting assets are usually faculty who contribute to the program and the study abroad office," Hess said. Students may also apply to participate in the program independently.
Hess emphasized that the governmental agency simplifies what could be a very complex process for volunteers — "On your own, you probably won't just get on a plane and go to Tanzania, but the Peace Corps will set it all up for you and get you there and then you do your thing."
Hess hopes that the recent renewal will boost the program's profile on campus. "I think that so many of our students would really benefit from spending the first two years out of college in a developing country doing a service project like this," he said, referring to time spent as a Peace Corps volunteer as "an internship on steroids."
Adding that many government organizations — including the U.S. Department of State and the United States Foreign Service — as well as international nonprofit organizations are well-staffed by former Peace Corps volunteers, Hess noted that Peace Corps service "jumps off the page when people are looking at your resume."
Even more critically, the public diplomacy inherent in Peace Corps service, which requires volunteers to fully embed in the communities they serve, builds bridges between America and nations around the world. "It's a network of people who are globally minded and a force that pushes the U.S. to act as a country that's humane and engaged," Hess said. "It acts as a positive force in the world."