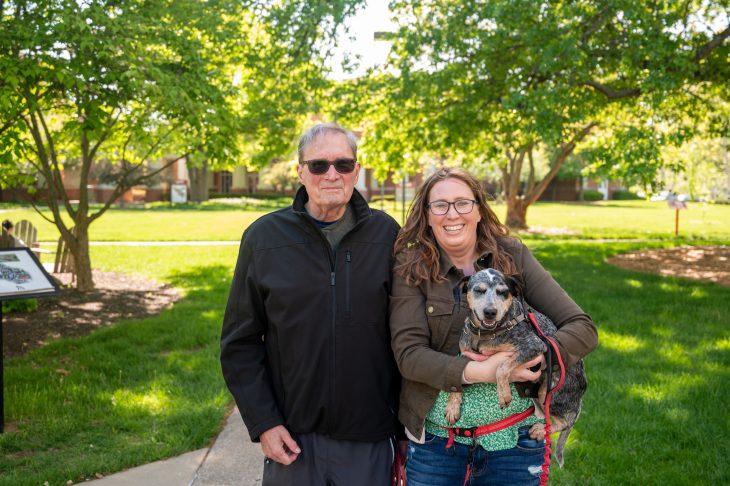 There may be an unseasonable chill in the air, but Ellen Furlong's dog, Olive, is staying warm by bounding across the Transylvania campus on a 25-foot lead. Peering in the windows of BSC, army-crawling through the grass on her belly and trying to engage students in an impromptu game of tug-of-war, she looks like she's living her best doggy life. And that's exactly Furlong's goal.
As part of her May term course, "What does Fido know?," Furlong, who is an associate professor of psychology, is taking Olive on a "sniffy walk" while her students observe and interact with the two-year-old heeler/beagle mix. On this particular day, she is joined by her father, retired Transylvania philosophy professor Jack Furlong, to discuss the ethics of pet ownership.
"Lots of people have misconceptions about what dogs need to have a good, happy doggy life," Ellen Furlong explained, noting that there's a major difference between what humans and dogs need to be fulfilled. To illuminate the overarching purpose of the course, she invites her dad to guest lecture in order to help students frame the question, "What do we owe dogs when we keep them in captivity?"
Furlong believes that owners need to carefully consider their dog's mental stimulation, physical activity and social needs, and not just assume that their pooch is happy. "One of the biggest things that people don't think about is species-typical behavior — what would a dog be doing in their day-to-day life if they had a choice in the matter?" Furlong said. To that end, students in the course develop enrichment plans for individual dogs to express their breed-specific traits. This often includes a "sniffy walk," which is an opportunity to add choice to the life of an animal whose day-to-day activities are often highly structured and scheduled — a chance to just "be a dog."
Unlike a typical dog walk, "sniffy walks" are dog directed. While it's the owner's responsibility to keep the dog safe on this type of walk, all of the other choices should be up to the pup — how long to walk, where to go, what and when to sniff. From the canine perspective, "sniffy walks" are "about info-gathering, figuring out what's happening in the world around it," Furlong explained. "Allowing it to use its species-typical behavior of sniffing for stress relief is good for dogs."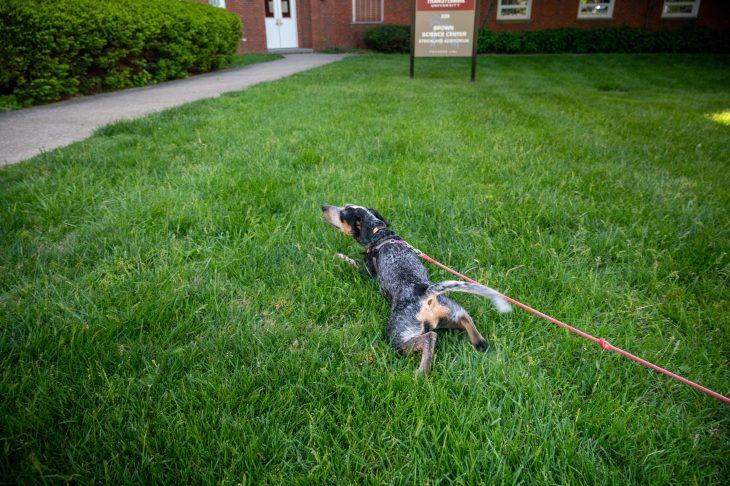 Students also work with Yappy Place, a local canine enrichment and wellness center. Yappy Place differs from doggy day care by focusing on enhancing the bonds between people and their pets. Based on the knowledge they acquire from Furlong, students will develop instructions for dog owners about how to most effectively interact with their furry friends.
Furlong takes an evolutionary approach to canine cognition, incorporating multiple disciplines to examine where dogs came from and the process of domestication. Students touch on multiple aspects of psychology as well, from sensation and perception to social reasoning, making the class an ideal fit for students in a wide variety of majors.
While canine cognition is a relatively new field of study — the first influential papers in the discipline were published in 1999 and 2000 — researchers are working to apply their findings to improve the lives of people and pets alike. Current research is underway to identify which dog breeds are particularly adept at performing certain tasks, with the hope of using this information to more accurately identify service dogs. This will ideally lower the service dog fail-out rate, making them less expensive and more accessible to owners. Other researchers are exploring the effects of lowered rates of socialization on pandemic puppies, who are expressing high rates of behavioral issues, including aggression, fear and anxiety.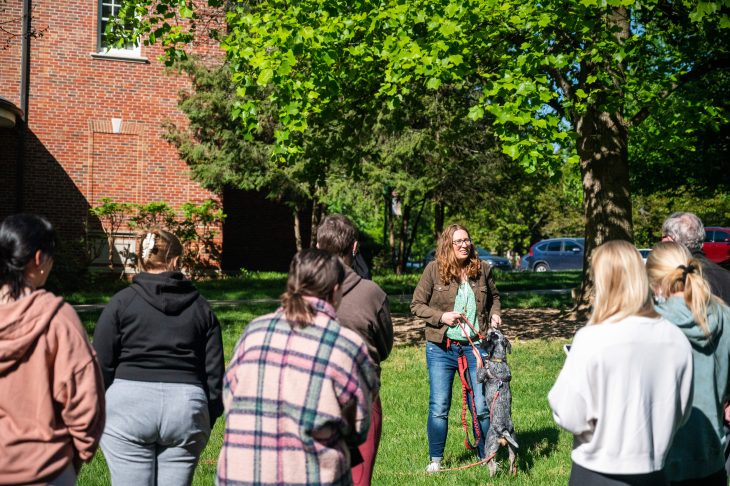 Furlong, who has researched dogs in addition to nonhuman primates for nearly a decade, has plans to build a canine cognition lab in the old Rafskeller location. With less than 20 of these labs in the world, this campus addition will create a unique opportunity for Pioneers and their pets. "Most studies take less than 10 minutes," Furlong explained. "The dogs basically eat treats and solve puzzles. Sometimes, they watch little puppet shows. They get attention, food, play a game and go home. They love it!"
Furlong hopes that her students gain both an enhanced understanding of what their dogs really want from them and a corresponding willingness to meet those needs. "In order to treat animals ethically, we have to understand their minds," she said. "As long as my students leave with the awareness that they need to think about their dog's needs in a deeper way than many people do, I will be happy."