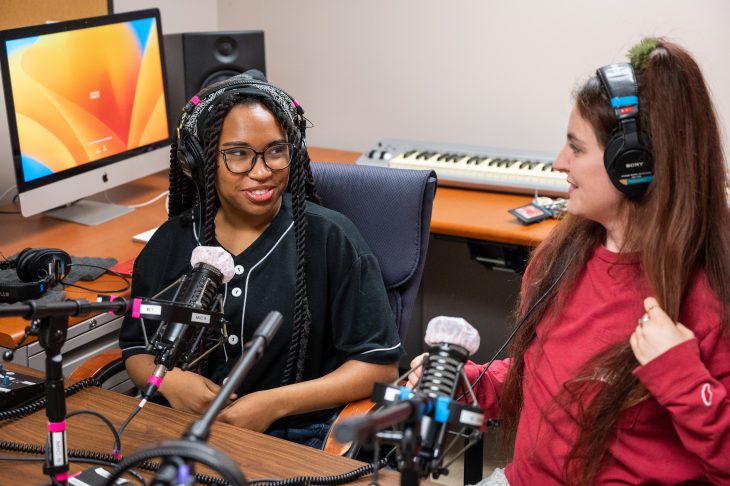 Four Pioneers have recently taken to the airwaves to examine the ways that gender is constructed and perpetuated in popular culture. Co-hosts Rose Kyser, Jackson Lamb, Lyric Onus and Sonni Wilson initially developed their gender-focused podcast, "I Think 'G' is For 'Girl'," as part of an advocacy project for Transylvania's Psychology of Gender course.
"We figured that a podcast would be the best way for us to express our emotions concerning a very pressing issue in relation to the queer and women's rights movements," said Lamb.
The four-episode series focuses on the representation of gender in media, marketing and entertainment. With titles like "It's Right on the Package" and "I Saw It on TV," the hosts converse about the different — and sometimes covert — ways in which social constructs of gender are reinforced.
While the hosts took inspiration from popular podcasts that simultaneously entertain while normalizing complex topics, "I Think 'G' is For 'Girl'" is also a response to the proliferation of podcasts that speak derogatorily about women.
"There are a lot of podcasts out there that have negative, sexist messages about gender concepts, and this was a way to challenge that," Onus said.
Developing the podcast took nearly a full semester, with the co-hosts extensively brainstorming and researching episode topics before sitting down to record and produce the season.
Each host was responsible for researching one of the four episodes. Kyser focused on hypersexualization in ads and commercials; Wilson explored gendered toys and other products; Onus looked at book bans that impacted LGBTQ-themed literature; and Lamb discussed LGBT representation in media and movies.
Though one person framed each discussion, giving them the opportunity to dig deeper on topics of personal interest, all of the co-hosts contributed their unique perspectives to every conversation.
"With four of us, it was easy to compare and expose our listeners to different perspectives on the same topic," Kyser said.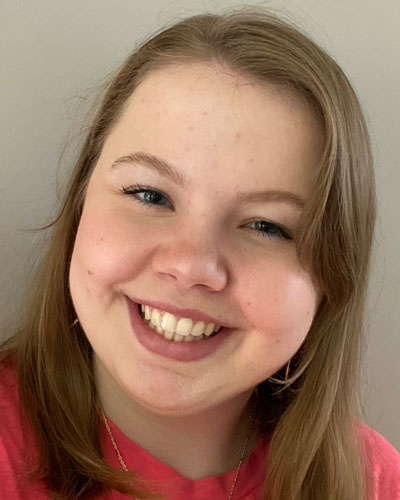 The easy conversation between the four hosts also serves as a model for others who might be interested in having conversations about these often-fraught topics. "I feel like talking about gender and sexuality is kind of scary nowadays, because people are realizing that it's not as simple as we always thought," Wilson reflected. "I want to show that it shouldn't be something scary. You should be able to talk comfortably and not be afraid to make mistakes and be wrong because we're all learning. It's a process."
Despite the level of effort involved, all four students enjoyed their co-hosting experience. While this cohort of hosts will not produce another season — both Wilson and Onus are graduating this month — they hope that the project will both educate listeners and serve as a jumping-off point for others.
"If other groups of students want to add on to this project in the future and create more seasons talking about gender in different aspects of life, that would be really cool," Wilson said.
The student hosts credited the inclusive atmosphere that Transy creates for students, as well as their experiences creating media for other class projects, for the positive experience they had developing and producing "I Think 'G' is For 'Girl'."
"Overall, it was a great way to fulfill a class' requirement and spread awareness about gender representation in media platforms," Kyser said.
"I Think 'G' is For 'Girl'" continues to be available to stream on YouTube, iHeart Podcasts and Spotify, as well as other podcast providers.