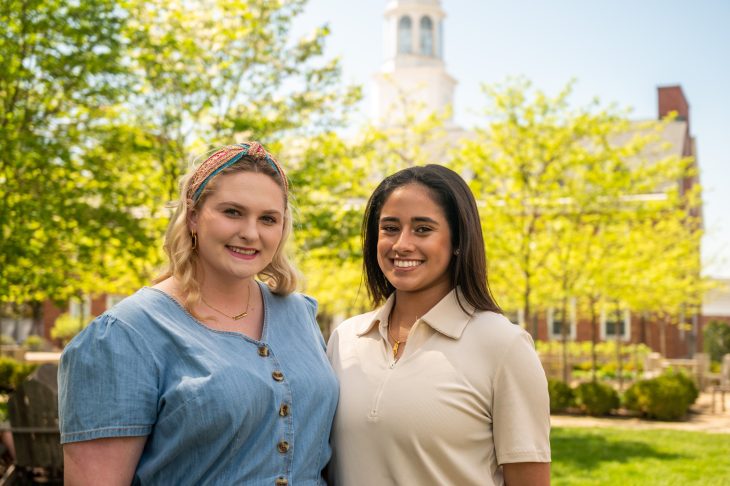 Two Transylvania University juniors have received Charles and Susan Shearer Scholarships — a full tuition award — for the 2023-24 academic year.
The recipients, Caroline Hughes (pictured left) and Jenna Shalash, were chosen based on their academic performance, leadership qualities, campus contributions and strength of character.
An elementary education major, Hughes is involved with multiple organizations that reflect her dedication to her future profession. The president-elect of the Aspiring Educators branch of the Kentucky Education Association and a member of Transylvania's Teacher Education Advisory Board, she also volunteers with Fayette County Public Schools, works as a staff member at a learning center in her hometown of Lawrenceburg, Kentucky, and served as a First Engagements Scholar for the 2022-23 academic year. A member of Phi Mu, she is currently the chairperson of academic excellence for the Delta Theta chapter, in addition to holding previous leadership roles within the organization.
"One seemingly small step toward a more caring and compassionate school environment can be taken if teachers and administrators recognize students as human beings who each have their own unique experiences," Hughes said. "Education for culture and society should create students who recognize a responsibility to one another and the spaces they inhabit."
Nominating faculty noted that Hughes is "sincere, mature, poised, caring and empathetic," referred to Hughes as "one of the most praiseworthy candidates to ever apply for the Shearer Scholarship," and wrote that "her future school district will be lucky indeed."
Shalash, a political science major from Lexington, has likewise contributed to Transy's campus and the broader community. President of the Muslim Students Association and vice president of both Transy's chapter of Omicron Delta Kappa and It's On Us, Shalash uses her voice to speak for the disenfranchised, organizing protests against the apartheid in Palestine. An admissions ambassador for Transylvania, she has also served as a role model for other young women through her work as a tutor at the Lexington Universal Academy and a mentor at Common Good.
Spurred by the loss of three friends to gun violence, Shalash plans to pursue a career as a prosecuting attorney. "Everything I do in the classroom, every leadership opportunity and my focus in life is in remembrance of them and the thousands of others who have been impacted by senseless violence in our community," she said. "As a prosecutor, I aim to be the gatekeeper who makes monumental decisions at the beginning of the judicial process in order to ensure that justice is served and upheld — this, without question, is my purpose."
Nominating faculty referenced Shalash's "intelligence, work ethic, presence and communication skills," noting that she is "exactly the kind of student we should celebrate and recognize at Transy." One nominator predicted "there is little doubt that one day she will be one of Transylvania's most highly regarded alumni," calling Shalash "brave, resilient and unflappable."
The Shearer scholarship was established by the Transylvania Board of Trustees in honor of President Shearer and his wife after nearly three decades of dedication to the school. This merit-based award is available for rising seniors in good standing who have achieved a minimum 3.5 cumulative grade point average.