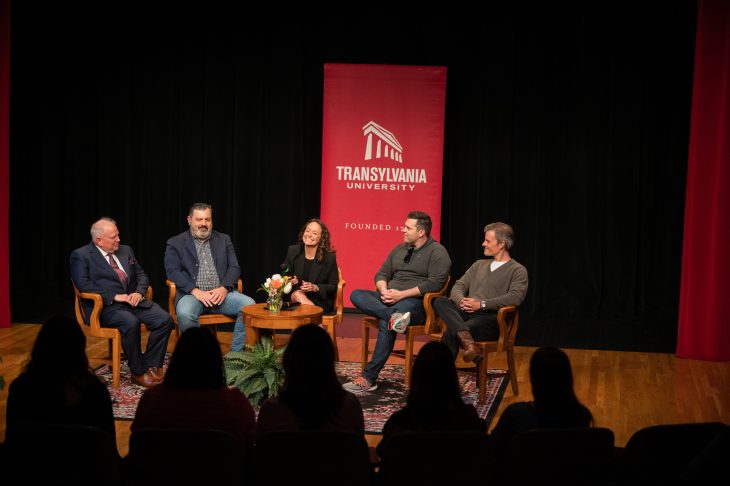 Five distinguished Transylvania alumni gathered in Carrick Theater on Thursday, April 27, to share hard-won wisdom from their varied careers, ranging from restaurateurs to NASA engineers.
Hosted by the Center for Academic and Professional Enrichment, the Transylvania Outstanding Pioneers panel featured Brent Donovan '92, Katy Groves-Mussat '03, Dana Havron '78, Hayden Mauk '98 and Brooks Reitz '06.
Donovan has worked in pharmaceutical development for the last 20-plus years and co-owns the Cozy Nook Gallery in Flemingsburg, Kentucky, with his father.
Groves-Mussat is both an anthropology professor at the University of Alabama and the co-owner of Farmer and Frenchman Winery and Cafe in Henderson, Kentucky.
A former Navy reservist, Havron is an engineer who has worked on a variety of NASA programs, most recently the Artemis II.
Emmy-award-winning producer and director Mauk has worked on some of the top U.S. and international shows in the unscripted television genre — and recently received another Emmy nod.
Owner of three restaurants in Charleston, South Carolina, Reitz is also the founder of Jack Rudy Cocktail Co. and co-founder of two American-made clothing brands, EM Reitz and Teamwork.
Moderator Tracy Dunn '90 asked the panelists a series of questions, including how their involvements at Transy helped them flourish professionally and what they now wish they had done differently as undergraduates. The panelists also discussed their proudest professional achievements and what they did immediately post-graduation before opening the floor to student questions and mingling with current Pioneers.
Their various collegiate extracurricular involvements taught all of the panelists lessons that they carry with them as professionals. Groves-Mussat, Havron and Mauk were all involved in fraternity and sorority life while at Transylvania, noting that their respective organizations taught them planning and discipline, as well as Robert's Rules of Order and how to interact with a wide variety of people. 
Donovan remarked that he didn't fully appreciate the experience of life on a small campus until he went to a Big Ten university for graduate school, saying that the tight-knit Transylvania community prepared him for interpersonal workplace dynamics.
And Reitz credits running cross-country, which led to marathons and Ironman triathlons — methods he continues to use to manage stress — as well as his involvement with Transy's drama program for his professional success. "When you're in acting class, your ego needs to completely disappear in order to inhabit these characters," he said. "That ability to get out of your own way and be comfortable in your own skin has paid huge dividends in my life."
Thanks to the strong liberal arts foundation they established at Transy, all of the panelists were able to pivot professionally, despite apparent discrepancies between their majors and their professions. Only Donovan, a double major in chemistry and mathematics, earned a degree in a major directly linked to his career. After completing a Ph.D in physical chemistry at the University of Michigan, Donovan turned down a postdoctoral fellowship — a disappointment from which he says his academic adviser still hasn't recovered — in order to pursue a career in pharmaceutical research.
Both Mauk and Havron majored in biology at Transy. After college, Mauk worked on his grandparents' farm and considered a career in pharmaceutical sales before moving to Los Angeles with a college friend, precipitating his career in the entertainment industry. Havron learned to fly airplanes and worked at the Lexington Public Library before ultimately earning a second bachelor's degree in mechanical engineering from Tennessee Technological University.
With her psychology degree from Transylvania, Groves-Mussat initially planned to be a veterinarian, working with nonhuman primates at the University of Kentucky's medical center before deciding to pursue a Ph.D. in anthropology while working on an organic farm in Tuscaloosa.
While Reitz double-majored in English and drama, he also worked at Dudley's in Lexington throughout his time at Transylvania. After reading an article in the New York Times food section about Proof, a restaurant in the 21C hotel in Louisville, Kentucky, he interviewed and was hired there immediately after graduation, taking the next step in his culinary career.
The panelists stressed that post-graduation life isn't a straight line, and that surprises are part of the journey. "You'll be presented with a lot of opportunities that you may not think fit with where you're going," Donovan said. He told the story of a failed cancer drug he helped develop that ended up being an effective treatment for progeria, a disease that causes rapid, premature aging in children. Due to this accidental discovery, progeria is now one of the only rare diseases with a commercial treatment available.
Reitz wanted to open his own restaurant but didn't have the capital immediately available. He started Jack Rudy Cocktail Co. as a side project, working on the company during his off hours while continuing to work for someone else. He saved his earnings for several years before partnering with a friend to invest in a building that eventually housed his first restaurant. While investing his life savings without a guarantee of success was "very scary," Reitz knew he could start over if he failed and was willing to take the risk.
Both Groves-Mussat and Mauk agreed that the willingness to take risks has been critical to their professional success.
"What you want to do is going to change," Mauk reminded the audience. "There are no right or wrong answers. Take the risk, and don't put a time limit on it. If you have no other option and take the risk, you'll figure out a way to make it work."