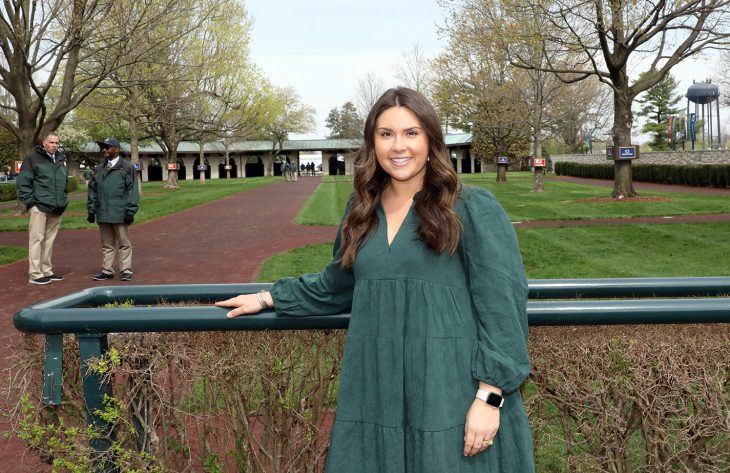 The following blog is excerpted from this article by Keeneland.
A part of the Lexington community since 1936 and the heart of thoroughbred racing in Kentucky, Keeneland provides unique opportunities for college students to learn about the historic track and the thoroughbred industry.
Experiences available to students through the College Opportunities Program touch a variety of disciplines at Keeneland and enable them to explore career paths in the horse industry. Students may choose to be a college ambassador or an intern, both paid positions at Keeneland, based on their level of interest and field of concentration. In addition, Keeneland's College Scholarship Day gives students the opportunity to win one of 10 $2000 scholarships.
Keeneland Community Outreach Manager Lauren Sparrow '19 became a college ambassador as a junior at Transylvania, then interned with the track's promotions department. Her professional journey has come full circle; Sparrow now calls upon her former experience as an ambassador and intern to help shape the future of these programs at Keeneland.
"I had never been to Keeneland until college and I knew very little about the thoroughbred industry," Sparrow said. "I saw a Keeneland Instagram post about the opportunity to become a college ambassador. At the time, I had just switched my major to business administration with a concentration in hospitality and thought this could be a good fit. I remember telling myself to just apply for it and even if I didn't like it, it would help me narrow my job search.
"During my first semester as an ambassador, I took every chance to learn more about Keeneland and the equine industry, and I fell in love with the sport and all that came with it," she said. "After graduating from Transylvania, I was eager to work at Keeneland full time; however, there were no positions available then. I worked for several months as lead concierge at Horse Country tours and continued to develop my knowledge of the equine industry. Then a position opened up and here I am today getting to build out the programming for the ambassador program. It gives me great joy to showcase the industry I love and to share all it has to offer with other students."
Keeneland College Scholarship Day presented by Lane's End offers ongoing outreach during race meets
College Scholarship Day presented by Lane's End is another key outreach and education component of Keeneland's Collegiate Opportunities Program.
Each spring and fall meet, Keeneland welcomes college students to enjoy a day of racing, win scholarships and prizes from local businesses and participate in behind-the-scenes racing experiences.
Registration is currently open for the 2023 Spring Meet at www.keeneland.com/csd through 3 p.m. Friday, Apr. 14.
Students who register for the event have the opportunity to win one of 10 $2,000 scholarships provided by Keeneland and the Kentucky Thoroughbred Association. Students who attend Keeneland in person on College Scholarship Day are eligible to win one of two $10,000 scholarships provided by Lane's End Farm.
More than $500,000 in scholarships have been awarded, and more than 30,000 college students have attended College Scholarship Day at Keeneland since its inception in 2002.
Read the full story on the Collegiate Opportunities Program on Keeneland's website.