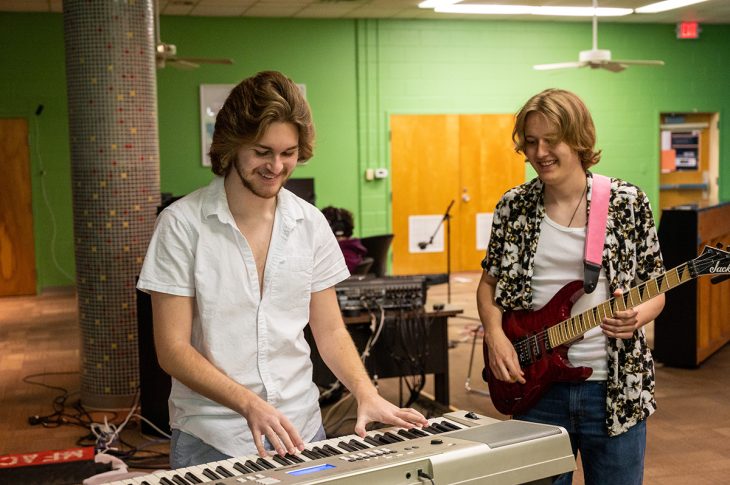 It's one thing to come up with music in your head or have a computer program play it back to you, but it's quite a different experience to sit in an audience while a professional musician performs your original composition.
Transylvania University senior Tammy Ray got to do just that — and she said it brought her music to life. On May 4 at 7 p.m. in Carrick Theater, she'll get that chance again as she and other Pioneers have their works played (and later recorded) by professionals. See who's involved in the Student Composers Concert.
This free, public performance is part of a Bingham professional development grant awarded to professor Tim Polashek for student learning. The project included a workshop with professional musicians and teachers, where the undergrads got face-to-face feedback and encouragement.
It's part of how Transylvania focuses on helping students create original compositions, a unique opportunity that attracts Pioneers from across the country (one is from Brazil).
"They're all very serious about what they're doing," Polashek said.
The university encourages students to compose for a variety of audiences beyond the concert hall. In the interdisciplinary spirit of the liberal arts, they've collaborated with Transylvania Theater on music for productions and with Morlan Gallery to accompany artwork in a recent senior exhibition. (Carter Murphy, a digital arts and media major, used artificial intelligence to create a soundscape to go along with his fishing-themed piece.)
Whenever students feel inspired, they can pop into a Digital Arts Technology Lab or recording live room to use cutting-edge technology. "We have really nice facilities with 24-hour access," Polashek said, pointing out how these spaces lend themselves to collaborative efforts.
Student Zander Gillispie, who also is in the Composers Concert, has been taking advantage of these facilities to work on a project with Benjamin Breitenstein (they're pictured above). "Ben and I are both first-years, and we met in the Introduction to Music Technology class last semester," Gillispie said. "We both liked each other's works that we did in class and said we should really collaborate sometime. The song we are working on encompasses aspects of our two writing styles and strengths."
These informal get-togethers are like mini workshops. "We come in with an idea, and we hash it out, playing to each other's strengths," Gillispie said. "You will find many students here work in conjunction with each other, lending their skills to those in need, making the experience as a music student here invaluable."
He also said faculty push Transylvania students to be creative and original — the scope of their output, both for class and on their own, ranges from chamber compositions to video game music to choir to heavy metal. They also participate in the university's Studio 300 Digital Art and Music Festival featuring musicians from around the world.
An electro-acoustic piece by Ray, "Spiders," was performed at the 2021 festival, and she's had that and other works in events such as a concert hosted by the Society for Electro-Acoustic Music in the United States, and the New York City Electroacoustic Music Festival.
This success shows how Ray has benefited from her music tech major's heavy emphasis on composition — and how high she's aiming. "The big goal for me is to compose music for movie soundtracks," she said.