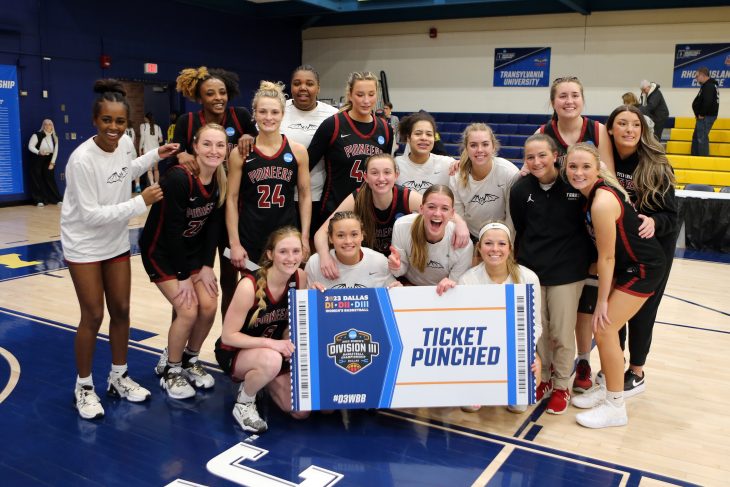 You may know Transylvania for its tradition of academic excellence — but its students also excel in many other areas, including athletics. With 27 different intercollegiate athletic teams, student-athletes make up nearly half of campus.
And their successes are historic. As the culmination of an undefeated season, the Transylvania women's basketball team recently defeated Smith College 76-65 in the Final Four to earn a spot in the NCAA Division III championship game. Led by Juli Fulks, D3Hoops co-head coach of the year, the Pioneers will take on the Christopher Newport Captains in Dallas on April 1 for a chance at the national title.
Equally impressive is the culture of classroom success for Transy student-athletes. With a total of 701 Academic All-Conference recipients — an honor which requires a minimum 3.5 cumulative GPA — and 74 All-Americans, Transy's athletics program emphasizes the first half of "student-athlete" while still racking up victories on the court.
This holistic success is made possible due in part to the small class sizes that characterize a Transylvania education. With an 11:1 student-faculty ratio, students have access to their professors in ways that simply aren't possible at a larger institution. Practices are scheduled around classes — not the other way around — and all students have access to a wide array of support services. In fact, student-athletes often supply the service — the bulk of Transylvania's peer tutors are also student-athletes.
Transylvania's vibrant creative community offers opportunities for student-athletes and fans alike to personalize their college experiences. With 48 different majors and opportunities to design your own degree, Transylvania prepares students to think critically and communicate effectively, essential skills for a constantly shifting economy.
And Transy students can enjoy a tight-knit college community located in the heart of a bustling city. As one of only nine top-100 liberal arts colleges in a city of 300,000+ people, Transylvania offers students access to big-city amenities while retaining the personal atmosphere of a small school.
Pursue your bold path at Transy as a student, an athlete and a fan. Learn more.