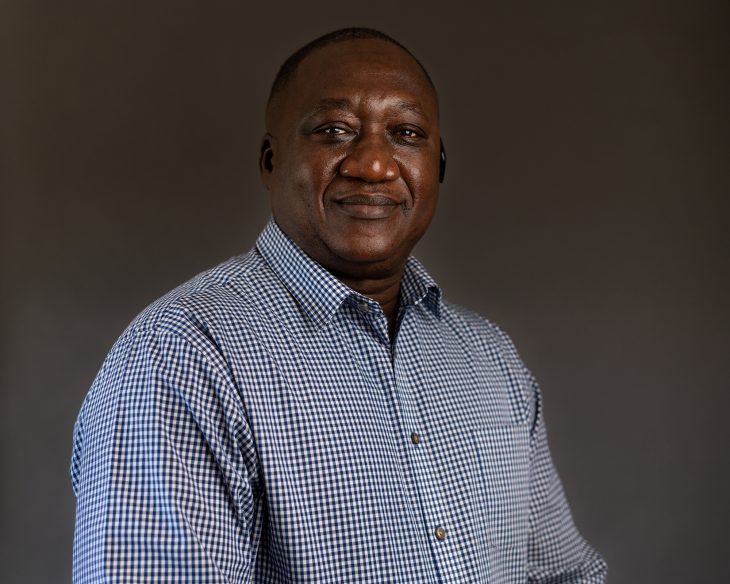 Since last summer, Mambuna Bojang '96 has been learning things about his adopted hometown of Lexington that he never knew — even after living here for almost three decades.
Through the Leadership Lexington program, Transylvania's technology support coordinator is taking field trips to local businesses and organizations and networking with local movers and shakers. He's also helping his employer and alma mater strengthen its already deep community ties.
"Leadership Lexington is a great program," Bojang said.
He meets with the group for a day each month for excursions into the community — for instance, they've visited the Henry Clay Center for Statesmanship, local schools and emergency services operations.
He was particularly moved by a late-night ridealong with a police officer, when he said he got to observe firsthand the vital work LPD is doing in the community. "It was a great experience getting to see what these people are doing to keep us safe while we sleep."
Now Bojang has an opportunity to show his appreciation for these members of the community putting it all on the line. Through Leadership Lexington, Bojang is on a team that is helping organize a Lex Heroes Ball on Aug. 5 to recognize the dedicated service of Lexingtonians from all walks of life. (Other projects of this year's leadership group address housing and voting issues.)

Not only will the connections he's making help increase Transylvania's engagement with the surrounding community, but they may in a way be an asset to the city's large West African population. Bojang is originally from Gambia and serves as president of Lexington Kafo, a group made up of members from that country, Senegal and Mali. "It's good to know resources Lexington has to offer," he said.
His experience kicked off this past August with an overnight orientation at the Historic Boone Tavern Hotel & Restaurant in Berea and will wrap up this summer with a celebration of the 2022-23 Leadership Lexington class.
Sponsored by Commerce Lexington, the annual program has been fostering a sense of community for more than 40 years, providing an "educational opportunity that broadens perspectives and allows participants to gain increased understanding of community dynamics and public issues," according to the group.