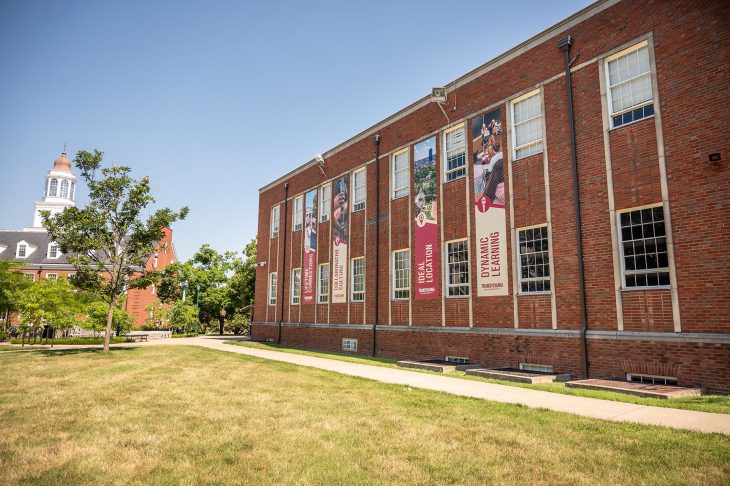 Transylvania University was recently named one of 16 Best of Show winners in the 38th Annual Educational Advertising Awards. The university also received four additional gold, two silver and two merit awards for materials created by the Office of Marketing and Communications.
According to its website, the annual awards program tests advertising "programs and campaigns against the best in the country." Judges for the Educational Advertising Awards consisted of a national panel of higher education marketers, advertising creative directors and marketing and advertising professionals who evaluate creativity, marketing execution and message impact.
This year, over 2,000 entries were received in 54 categories from more than 1,000 colleges, universities and secondary schools from all 50 states and around the world. Sixteen institutions, including Transylvania, were recognized by the judges as a Best of Show winner. Gold awards were granted to 456 institutions; silver awards were presented to 271 institutions; and bronze awards went to 165 institutions.
The Best of Show awards are special commendations given to entrants whose work exhibit the highest standards of excellence. Teaming up with Carnegie Higher Education, Transylvania was recognized for a website landing page that is part of an overall campaign introducing the university to sophomores.
"We're excited to know that the work our in-house creative team did with Carnegie, clearly communicating Transylvania's story to new audiences and prospective students, captured the attention of the judging panel. We're truly honored to be recognized as exceptional within the field of higher education marketing and advertising," said Megan Moloney, vice president for marketing and communications.
In addition to the Best in Show gold award, the university's marketing and communications team received top honors for both print and digital work. Awards include:
The 1780 blog received a gold award in the Blogs category.
An outdoor display on the Mitchell Fine Arts building received a gold award in the Installations category.
A Star Wars Day post received a gold award in the Facebook Content category.
A marketing campaign, including a poster, social media and blog posts, for Transylvania Theater's "The Ballad of Bride and Blue" received a gold award in the Special Event Campaign category.
The university's Pursue Bold Paths marketing and advertising efforts received a silver award in the Integrated Marketing Campaign category.
The Transylvania Appalachian Regional Healthcare partnership received a silver award in the Special Promotions Campaign category.
The prospective student viewbook received a merit award in the Student Viewbook category.
A video highlighting the annual PumpkinMania festival received a merit award in the Special Video category.
President Brien Lewis said, "It's so rewarding to see the talents of our writers, graphic and web designers, photographers and marketing professionals recognized at a national level, especially when they are dedicated every day to keeping our Transylvania students, employees, alumni and community informed."
According to program organizers, the Educational Advertising Awards is the largest, oldest and most respected educational advertising awards competition in the country.
All winners are posted on the Educational Advertising Awards website at educationaladvertisingawards.com.