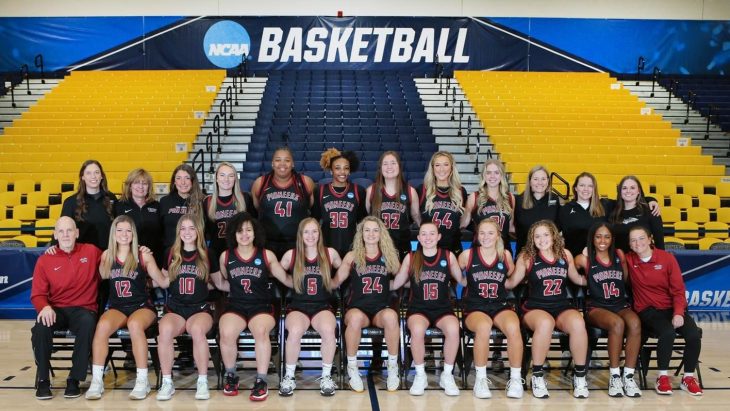 The Transylvania campus is #WingsUp as the 32-0 Pioneers women's basketball team heads to Dallas, Texas to play for the national championship on April 1. From a team send-off and watch parties to plans to welcome the team home, the Transylvania community is celebrating the team's historic accomplishments.
The university launched a championship-specific webpage — transy.edu/wbb23 — with information about university events, how to order commemorative gear and more.
Here are some of the ways to celebrate the team:
On Wednesday, March 29, the Pioneers depart Lexington for Dallas. Students, faculty, staff, alumni and the community are invited to a send-off in front of the Clive M. Beck Center starting at 8:30 a.m. Show your support and cheer on the student-athletes and coaches as they leave campus.
Get geared up and be a part of the blackout whether you're in Dallas or Lexington. The team will be wearing their black jerseys during the game, so we're encouraging all Pioneers fans to do the same. Commemorative t-shirts and hoodies are available for purchase on the website with pickup available on campus next week.
Stop by a watch party! The campus will hold a watch party at the Kentucky Theatre in downtown Lexington for students and community members. Ticket information will be added to the website as it becomes available. Additional watch parties are planned for sites in Lexington, Louisville and other locations to be confirmed.
Watch the game at home on the CBS Sports Network and let us know you're watching. Tag Transylvania on social media, including @transysports and @tuwbx; use the hashtags #WingsUp, #Texas2Texas and #FlyPios; or send us your pictures at tucomms@transy.edu, and we may share your photos online.
Headed to Dallas? Come cheer the team on as they walk the championship "red carpet" at 9:15 a.m. CT before the game. Head to the PNC Plaza in front of the American Airlines Center to show your Pio pride.
We'll be sharing information on how to welcome the team home late on April 2 as well as a welcome home rally later in the week.
The 2023 NCAA women's championship celebration in Dallas runs from March 31 through April 3. Pioneer fans can purchase tickets to the DIII championship game, as well as a wide variety of event packages for the weekend. Learn more about the event's security policies and venue bag policies.