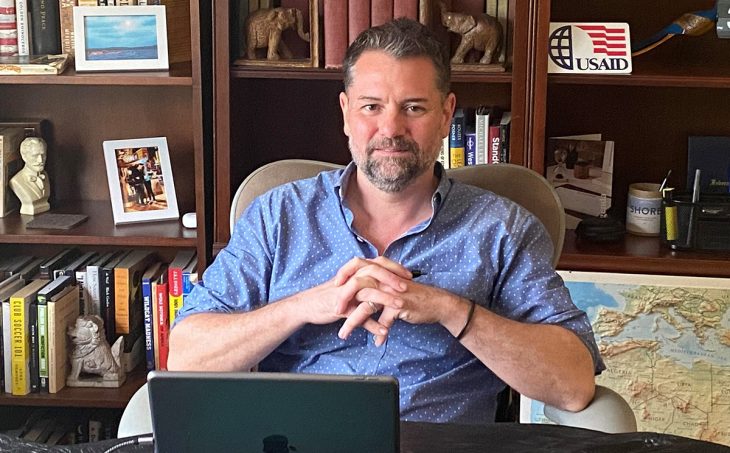 Michael Nicholson, who graduated from Transylvania University in 1996, is a foreign service officer for the U.S. Agency for International Development. A published author and former Transy professor, he has lived and worked across the globe, including in Armenia, Egypt, Liberia, Pakistan, Kenya, Ghana, Côte d'Ivoire and, soon, Mozambique. The Lexington native, who still makes Kentucky his home when on leave, majored in economics and physics at Transylvania. Then he spent a year in London before earning a master's and Ph.D. — both in economics — from the University of Colorado at Boulder.
What got you interested in working as a diplomat for USAID, and what has the job entailed? 
USAID seemed a great match of using professional skills to simultaneously serve my country and make the world a better place. The agency's twin objectives are: develop sustainable democracies around the world and eliminate extreme poverty — and both of those are nice things. We often justify our budgets through the lens of security and countering terrorism, because that's where the money is, but I continue to feel comfortably motivated that supporting democracy and fighting poverty are inherently American interests because it's the right thing to do, and we are — or should always be trying to be — the good guys.
Is there anything specific you've worked on that has had a profound impact on you?
As an economist, I'm a numbers guy, and as a USAID foreign service officer, I manage projects with wild numbers about money invested and people impacted. I use the word "wild" because they are often in the millions, sometimes in the billions, and I often just don't trust them. I believe we can justify using these big numbers in speeches by senators and ambassadors simply because we are developing projects that exist to generate these big numbers — a version of teaching to the test. But it's a truth that metrics don't always measure what matters.
I have been profoundly impacted by the people that I have met on the other side of the numbers. In my first job with USAID, in Liberia in 2014, we were developing roads that connected regional markets to rural communities. As the roads were being opened, we visited these communities, places that had just been Excel spreadsheet cells to me for years. Then I met people, families, who could access hospitals or schools or simple markets for the first time in a generation or more. That first time truly engaging with the real human presence on the other side of the numbers still impacts me profoundly.
Do you draw from your Transylvania liberal arts background in your career? If yes, how so?
Transy pulls out of us a love for a wide breadth of reading, the demands of intellectual curiosity and a healthy skepticism that the way we've been doing things maybe isn't the best way to do things going forward. It also compels us to live, work and play with people — the same people — in very intimate settings, which forges deep relationships but also, admittedly, sometimes we are practically 24/7 with folks we'd probably otherwise rather not see much. I have drawn deeply on both the intellectual and the social elements of life at 300 North Broadway throughout my diplomatic career. You have to play well in the sandbox with everyone.
Professionally, my degree from Transylvania propelled me to graduate studies in economics on an interdisciplinary National Science Foundation fellowship on "Globalization and Democracy," which was heavy on political science, history and philosophy. My liberal arts background set me up for the fellowship, and I've continued to draw on multiple academic disciplines ever since. It's always a good idea to read the primary sources, and then read their contemporary critiques.
What have you written about?
My first published book was about my time working and living in Liberia from 2012-14. Henry Clay was a key figure in Liberia's early history, and two 19th century Liberia presidents were born in Fayette County. It took a bit of intellectual liberty connecting Kentucky basketball to Liberian history, but I got there. Folks can find it on Amazon under "Shattered Chasm: The Lighter Side of Living in Liberia."
One of my goals for 2023 is to edit and publish a book about Armenia that I wrote while I was a Transy professor but that I've let sit gathering dust for more than a decade. If I were to pass on a life lesson: It's never too late to finish what you start; nobody else will finish it for you.