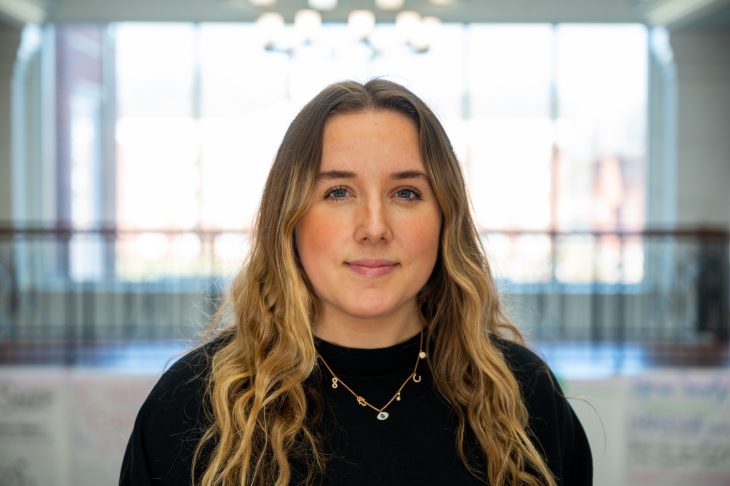 As a high school student-athlete, Linley Dawson was looking for a university that offered both her major and her sport. A women's lacrosse midfielder from Cincinnati, she said that the ability to continue to compete was key to finding the right fit — "it would have been one of my biggest regrets to not keep playing in college."
Dawson initially heard about Transylvania through a family friend, but it was her campus visit that solidified her decision to enroll. As she was taking her campus tour, future teammates approached her and introduced themselves. The positive environment made her feel at home.
"Every single person I passed on campus would smile or say hi to me," she said. "Once I got on campus, I knew, 'This is what I want. This is where I want to be.'"
That welcoming community of support — known colloquially as the "Transy Bubble" — is the perfect foil for Transy's location in the heart of downtown Lexington, another factor that Lawson found appealing. "Lots of small liberal arts schools are not in a densely populated area," she noted, adding that the campus location also allows students to take advantage of the opportunities inherent in city living. "Lexington gives you lots of things to do in your free time."
Transylvania's philosophy, politics and economics major attracted Dawson as well, but she quickly pivoted to economics after taking her first class with professor G. Rod Erfani, which she said fostered a love for the subject.
Her minor also changed as a direct result of Transylvania's liberal arts education. After taking Intro to Drawing as her required art credit, Dawson continued taking art classes, eventually declaring a minor in studio art.
Dawson's extracurricular involvement is as well rounded and diverse as her academic interests. In addition to lacrosse, she is a member of Chi Omega, part of the Pre-Law Society, a First Engagements scholar and is involved with the 100 Doors to Success mentor program.
With so many responsibilities, good time management skills are essential, and the structure provided by collegiate athletics helps her find balance. "It's so important to plan your time once you get involved in other things on campus, to make sure you have time to study and get that time to de-stress as well," Dawson said, citing team study tables as one way she structures her time. "In the fall, our coach makes a point to do study tables at least every other week for an hour or so to make sure we're staying on top of our work and our grades."
Her coach, Rachel Bragg, has had a tremendous impact on her overall success. "She has really provided such a big support system," Dawson said. Both Bragg and Cassie Hamilton, Transylvania's assistant athletic director for communication and media, have individual meetings with the players multiple times each semester, a practice that Dawson says shows their concern for players' mental health and academics, as well as their on-field performance. "That's been a really important part of my college experience — having someone that cares so much about you as a player, but also as a student and as a person."
The team also meets with sports psychologists regularly, in addition to encouraging players to take advantage of the services offered to all Transy students, such as the campus counseling center. "We always have people to listen and be our supporters," Dawson added.
This holistic investment in players has yielded the program dividends. In 2022, the women's lacrosse team made it to the second round of the NCAA DIII tournament, a history-making occurrence for the young program. Dawson, who netted a hat trick in the first tournament game, recalls the 2022 season as one of rebuilding, noting that "accomplishing something like that is one of my favorite memories because we weren't expected to win and had worked so hard to get to that point. Team chemistry was important to getting so far and having that success."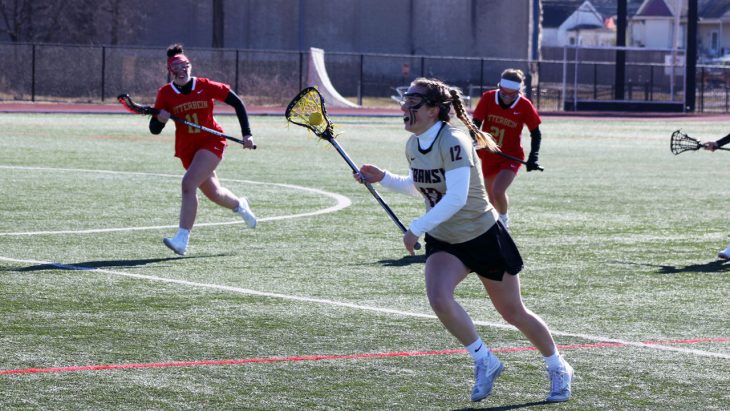 While she may hang up her lacrosse stick post-graduation, Dawson's experience as a college athlete has shaped her future career plans. After earning her undergraduate degree in 2024, she hopes to attend law school and eventually practice sports law, an area she has been able to learn more about through her involvement with Transy's Center for Academic and Professional Enrichment and her 100 Doors mentor, an attorney practicing in Washington, D.C. "The career development office has helped me so much in terms of providing me with opportunities and names of people to reach out to," Dawson said.
The leadership skills fostered by her experience playing lacrosse at the collegiate level will also serve her well in her future career. Explaining that the team doesn't have captains, Dawson stressed the importance of each player holding their teammates accountable as well as clear and constant communication — skills developed on the field that will help her communicate effectively with her clients and in the courtroom.
Dawson encourages high school student-athletes to visit Transy's campus to see firsthand the opportunities available to an NCAA athlete, as well as to experience the camaraderie of this tight-knit community. "Transy provides such a family-oriented environment," she said. "No matter where I go, I see a familiar face on campus. I came in not knowing a single person here, and I'll come out with some of my best friends."