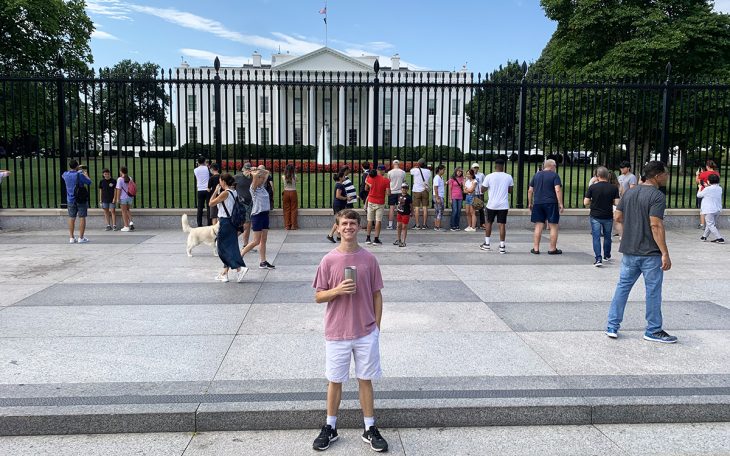 Transylvania senior Jay Harris is a political science major attending college in the Horse Capital of the World.
So interning with a group that advocates for the equine industry in Congress made horse sense for Harris as he saddles up for life after graduation.
Working for the American Horse Council this past summer, he compiled a national directory of trails for riding, along with etiquette tips. His efforts were recognized last week in The Northwest Horse Source magazine.
Harris got a shout-out in the publication from Randy Rasmussen, chair of the AHC's Recreation, Trails and Land Use Committee: "Many thanks to Jay for all his hard work and research on this project."
In addition to honing his research skills, he has learned a lot about an industry that's vital to the economy of his home state — knowledge he could build upon later. "It's a good stepping stone," he said of the internship.
AHC President Julie Broadway said in the article she hopes the "comprehensive guide with links to all things trail related will be a valuable asset to our recreational trail riding community. Through the pandemic, equestrians turned to trails to commune with nature and enjoy their horses. We felt this directory would be helpful in identifying and discovering new adventures outdoors."
The Transylvania student discovered through the project how riding has gained in popularity over the past few years. "One of the interesting statistics I stumbled upon was the increase in recreational horse use due to COVID-19," he said.
Harris, whose family owned a Morgan horse as he grew up in nearby Georgetown, Kentucky, also spent time with staff at the AHC office in Washington, D.C. He learned from a lobbyist about measures the group was trying to push through the House, for instance.
Another internship that will benefit his future — one that also has strong connections to the Bluegrass — was with the Council of State Governments national headquarters in Lexington. (It's actually just a short trot along Iron Works Pike from the Kentucky Horse Park.) Harris worked for the group's Healthy States National Task Force covering areas like economics, health and civic policy while researching legislation in all 50 states.
"I thought it would be good resume material that would help me later on," he said.