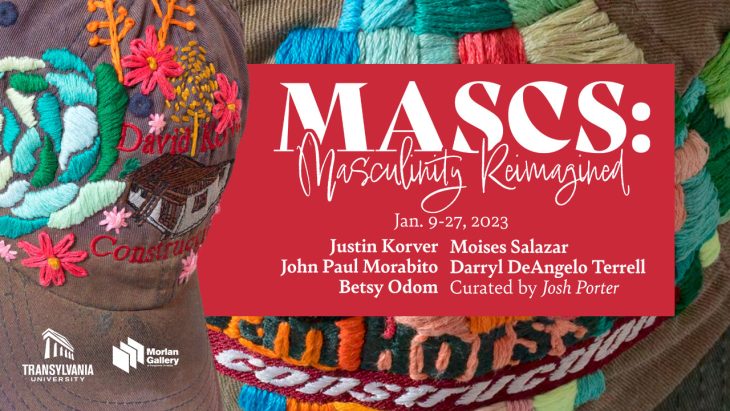 'MASCS: Masculinity Reimagined,' the newest exhibition at Transylvania's Morlan Gallery, runs today through Jan. 27.
Curated by Josh Porter '19 and featuring works by Justin Korver, John Paul Morabito, Betsy Odom, Moises Salazar and Darryl DeAngelo Terrell, the exhibition views masculinity through a queer lens and embraces alternative and non-normative expressions of gender. 'MASCS' highlights the performative nature of gender and reimagines masculinity in a way that challenges social norms.
Transylvania alumnus Porter is grateful for the opportunity to curate his MFA thesis at his alma mater, referring to the exhibition as a "wonderful, full-circle opportunity."
"The last time I worked in Morlan Gallery, I was co-curating my own senior art exhibition with five other seniors," Porter reflected. "Now, I am curating the work of five wonderful, renowned artists from across the country."
Korver, Morabito and Porter will participate in a webinar panel regarding the exhibition on Jan. 12 from 6-7 p.m.
Exploring the cultural definition of masculinity and examining the many ways in which we construct gender, the exhibition will be part of the Jan. 20 LexArts Gallery HOP with a reception from 5-8 p.m. in Morlan Gallery, including a 6-7 p.m. curator talk with Porter.
Admission to the gallery is free to the public. Morlan Gallery is open from noon-5 p.m. Mondays through Fridays, with parking available behind the Mitchell Fine Arts Center.