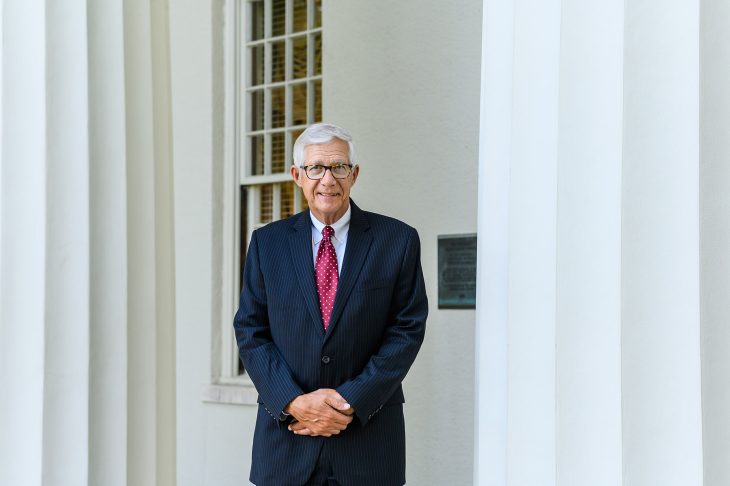 The Board of Trust for the Bingham Program for Excellence in Teaching at Transylvania University has named Dr. John Norton Williams Jr. as its executive director. Williams, a 1974 graduate of Transylvania, has served the university in several capacities, including as a member of the Board of Trustees, a former member of the Bingham Trust board and, most recently, as 27th president of the institution.
"I am extremely delighted that Dr. Williams has agreed to serve as the executive director of the Bingham Trust," said Chris Young, chair of the Bingham Board of Trust. "His leadership will allow us to enhance our mission to reward and promote teaching excellence at Transylvania. As the Bingham Trust enters its 36th year, we are looking to the future and are excited to strengthen our support of instructional programs on campus and to broaden the impact of teaching excellence across Transylvania's academic programs."
A longtime member of the university community, Williams has served on the Transylvania Board of Trustees since 2007 and currently chairs its advancement committee. He also served on the Bingham Trust board from 2019-22. In 2009, he and his wife, Lucy, a Transylvania alumna, each received the Morrison Medallion for their commitment to advancing liberal arts education and leadership in supporting Transylvania.
"The Bingham Trust is a tremendous resource for the Transylvania academic community to deepen the impact of great teaching for the students," said Williams. "It is insightful for the board to establish this new executive director position as the board actively explores new programs and teaching initiatives for Transylvania. The past largess and future investments in teaching excellence will solidify Transylvania as the liberal arts institution where students are taught by truly great teachers."
During an academic career that spans three decades, Williams has held provost and dean positions at Indiana University, the University of North Carolina and the University of Louisville. He holds a Doctor of Dental Medicine and a Master of Business Administration from the University of Louisville, as well as a bachelor's degree in biology from Transylvania.
Williams has served as the chair for the Commission on Dental Accreditation and chair of its predoctoral review committee, which oversees accreditation policy for all DDS/DMD educational programs in the United States. He is also a member of the Board of Trustees for the Christian Theological Seminary and a board member of the Procter & Gamble Global Advisory Committee. He is nationally and internationally known for his work in accreditation, academic program development and assessment.
Established in 1987, the Bingham Program for Teaching Excellence has granted more than $75 million to Transylvania with the sole purpose of stimulating and rewarding excellence in teaching.