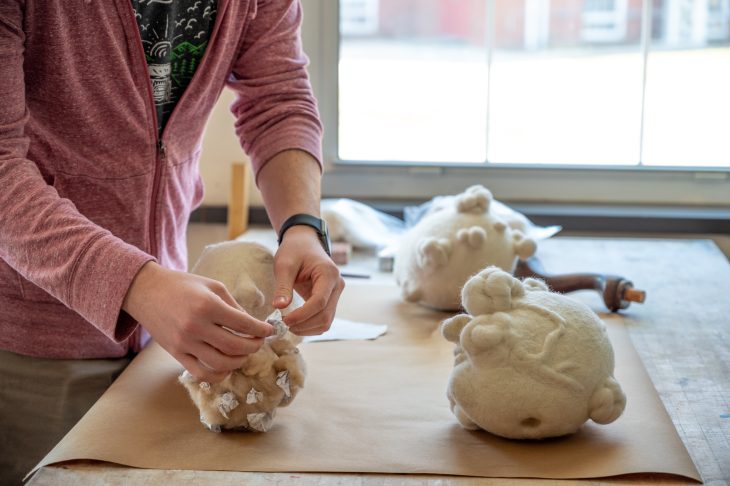 Transylvania University has extended the fine arts scholarship application deadline to Feb. 15. These annual scholarships range in value from $1,000 to $3,000 and may be combined with other academic scholarships. Eligibility is limited to students who have been admitted to the university. Applying to Transylvania is simple and can be done online via the application portal or using the Common Application.
As a liberal arts institution, Transylvania has a rich creative tradition. Whether majoring in accounting or anthropology, students are encouraged to express themselves outside of the classroom through music, writing, theater and art. While some fine arts scholarships are restricted to students in particular majors, many are open to any student regardless of major. Scholarship maintenance requirements vary based on area of interest.
To get started, applicants must submit an interest form identifying their particular areas of giftedness from a menu of options, including art history, choral/vocal music, instrumental music, creative writing, music technology, studio art and theater.
Once applications are submitted, students will have the opportunity to audition in one or more areas of interest via portfolio, essay or video. Follow-up virtual interviews will be conducted by Transylvania faculty. If a student is ultimately awarded more than one fine arts scholarship, the student will be allowed to select which one to receive.
Participating in the fine arts scholarship process gives students the opportunity to learn more about what Transylvania can offer budding artists.
"The audition and the scholarship definitely impacted my decision to attend Transy," said fine arts scholarship recipient and Transylvania sophomore Addie Regnier, citing the personal connections she was able to make with professors throughout the process. "I wanted faculty who were invested in my learning and really, really cared about me individually. It was an amazing experience, actually."
Apply today and become part of Transylvania's creative community!