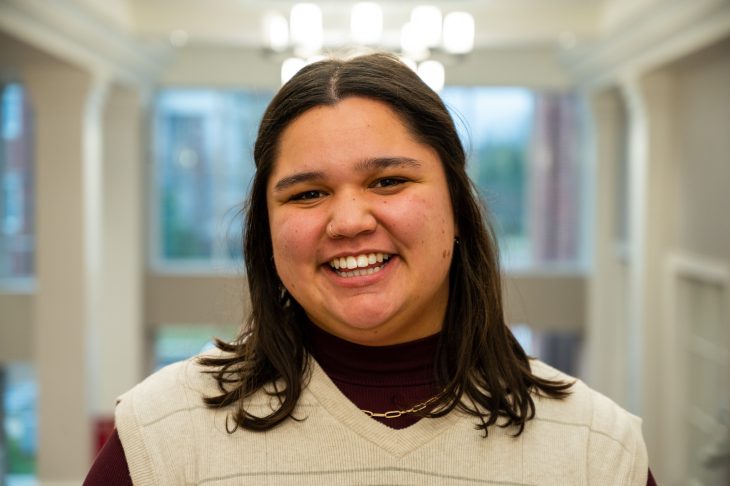 For Elia Zonio '23, Transylvania professors have been an essential part of her undergraduate experience. Like many first-year students, she expected college to be an easy transition and was surprised when the adjustment was tougher than expected. The professors she had during her first term played an enormous role in keeping her engaged while she found her place in the Transy community. "They are the biggest reason why I didn't leave, and I'm so glad I stayed," she reflected. "It has turned into the best college experience I could have asked for."
Zonio originally planned to major in theater and minor in sociology, following in the footsteps of her father, who holds a Ph.D. in sociology. But her plans changed after her first year of college, when the COVID-19 pandemic forced theaters to close and moved social justice issues, such as the Black Lives Matter movement, to the forefront of the national discourse.
Zonio, who had already been taking first-year education classes focusing on injustice, found herself drawn to learning more about the roots of inequality. "I did lots of reading during the eight months I was home for COVID," she said, "and I decided I wanted to change my major." After consulting with her adviser, professor Carole Barnsley, the two began the process of building the committee that developed Zonio's self-designed major in social change.
The social change major is "a mix of education, religion, history and women's and gender studies courses looking at inequalities," Zonio said. "I've really been able to take so many different professors, and, therefore, have so many different points of view and fields of study informing how I am learning about social inequality. My classes are geared towards what I am interested in, and I know my professors are passionate about those things too."
Over the past three years, her academic interests have expanded outside of the classroom. Since 2021, Zonio has participated in a Transy and race working group where campus and community members partner together to explore and discuss racial issues on and off campus.
She has also had the opportunity to work as professor Leslie Ribovich's research assistant. "I'm offering editing comments to one of my professors," she laughed.
Zonio sees Transy's small class sizes and tight-knit academic community as advantageous. "The 'Transy Bubble' is really awesome," she said. "You find your people and get connected to professors and alums. The students and professors have a lot of collaboration. It's really cool to see how proud people are to be at Transy."
One of Zonio's favorite campus memories took place in a different kind of bubble, during the 2020-21 school year amid the COVID pandemic. On a winter night, Zonio and her friends "went and had a snowball fight in front of Old Morrison for two hours and then walked around downtown Lexington in the snow," she remembered, noting that the night was extra special because, at the time, "it was one of the rare opportunities to do something and have fun because everything was shut down."
As her time at Transy comes to an end, Zonio is applying to graduate and divinity programs — Duke Divinity School is currently her top contender — and hopes to eventually do diversity, equity and inclusion work at churches and other Christian institutions.
Zonio is grateful for the role donors have played in making a Transy education affordable for her and her family. "From freshman year onward, almost all of my tuition has been covered by scholarships," she said, adding, "I don't think Transy would be the same without donor support. It would be a completely different student body population, and I think that's so important to what Transy is. If it weren't for those scholarships, I wouldn't have been able to come here."
As 2022 concludes, your donation to Transylvania University can help students like Zonio have life-changing educational experiences. There are many ways to donate, including gifts of appreciated securities and IRA contributions, as well as direct donations via check or credit card. As part of this year's "Raise the Bar for Transy" challenge, new donors or those who increase their gift from the previous year will have their donation tripled. Those who opt to renew last year's gift will have their contribution doubled.
To count in the 2022 tax year, gifts must be postmarked or submitted online by 5 p.m. on Dec. 31. If you have any questions about how to give, potential tax benefits of giving or how to donate stock gifts, contact giving@transy.edu or call 800-487-2679. Transylvania thanks all of those who have given generously of their time and money to support student success.