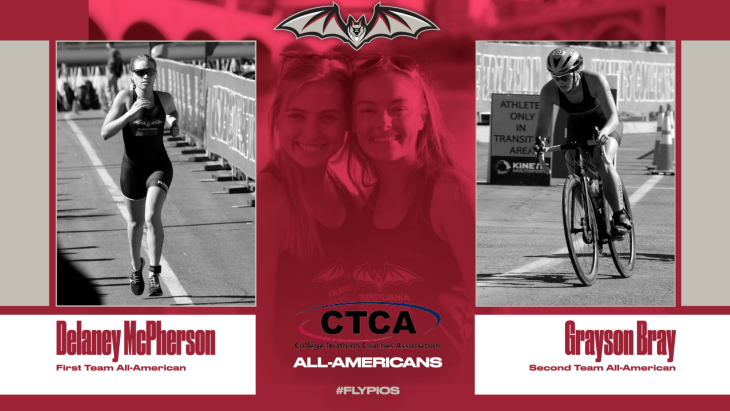 Following top 10 placements at the NCAA Division III Women's Collegiate Triathlon Championship, two Pioneers have been named All-Americans by the College Triathlon Coaches Association. Junior Delaney McPherson was named a first team All-American and senior Grayson Bray was named a second team All-American.
McPherson finished in third place overall in the Tempe, Arizona championships in November, with a 1:14:36.5 overall time, an impressive 21:55 5k time and a new personal best for the season.
"It meant a lot to me to be able to go out and compete for my team, especially as we are losing Grayson, who has been such a pillar of the team," McPherson said.
Bray finished with a 1:16:58.9 in 10th place overall, beating her East Regional 5k time along the way. The senior triathlete is planning to join the United States Marine Corps after graduation in May and has already completed officer candidate school.
Bray sees a connection between her triathlon training and the rigorous workouts required by the Marine Corps. "A lot of my training was pretty similar," she laughed. "For the Marines, you have to be a good runner, you have to be strong, there's water-based training. It almost felt like I didn't have to change my workout routine for the season."
Meanwhile, McPherson is looking forward to her final year of collegiate competition. "I'd really like to be on the podium again at Nationals and, hopefully, we'll do really well as a team," she said when asked about her hopes for next season. "I want to come out feeling like I left it all on the field."
The Pioneers finished seventh overall among the DIII national field.