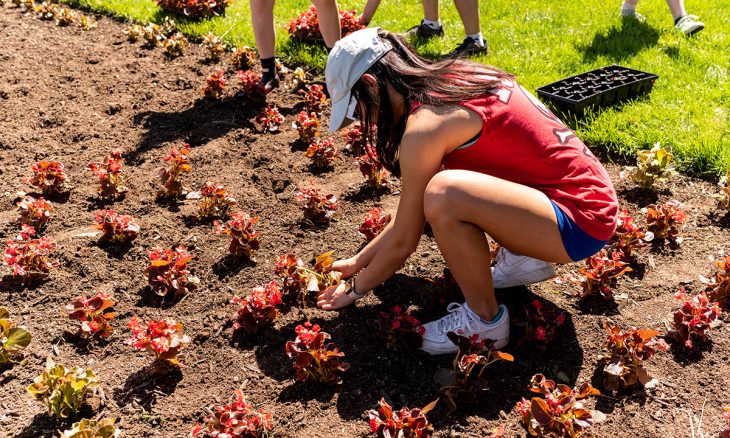 This article appeared in the most recent issue of Transylvania's Third & Broadway magazine.
---
Pioneers across Transylvania's campus pitch in to serve their local and school communities, embodying the university's commitment to social responsibility and its broader liberal arts mission.
Being in the heart of Lexington offers students plenty of opportunities to serve and get life and leadership experience that will help them in their future careers. In fact, 90 percent of Transylvania students take part in community engagement projects.
The school was recognized for its efforts in 2019 and 2020 when Washington Monthly ranked it in the nation's top 10 liberal arts schools for public service.
Many different campus groups are dedicated to helping others. For instance, Pioneers can join a student volunteer team that commits at least two hours a week to a community partner, such as Habitat for Humanity or Seedleaf, to help out with things like affordable housing, food insecurity and education.
Other organized efforts include the Peace Corps Prep program, service trips and projects sponsored by other student groups such as fraternities and sororities, Circle K and Students Against Hunger and Homelessness.
Students also earn money helping out the local community through the federal Community-Based Work-Study Program.
Additionally, all of the sports teams participate in service projects, ranging from delivering food to American Cancer Society patients to helping out at the Humane Society to sending greeting cards to nursing home residents and veterans.
"A key part of living a meaningful life is to go beyond yourself — to do things for others," Transylvania President Brien Lewis says.