Some classes are just plain hard.
It doesn't mean you need to change your major or drop out of college. Some teamwork might be in order, though.
Transylvania University recently launched Embedded Learning Forums to help students in three classes that are historically difficult — if you guessed math and science, you're right (at least for this first term; next up is economics, French and Spanish).
Those taking one of these courses can attend one or two forums each week. These review and practice sessions are designed and led by an Embedded Learning fellow who has taken the class in the past and who meets regularly with the professor to discuss things like learning objectives and difficult-to-grasp material.
The benefits are immediately evident. Midterm data reveals the number of U (unsatisfactory) grades declined in each of the classes compared to two recent years — the Us fell by more than 200 percent compared with both years in Principles of Chemistry I.
As of Thanksgiving break, 56 students had participated in at least one forum.
While Academic Affairs is confident the outcomes are positive, the school is collecting data to fine tune the program (e.g., to learn how many sessions should be offered per week).
"It's an evidence based practice," said Laura Scroggins, director of tutoring and ESL. "Students who have attended forums regularly have reported they've helped them be more successful in the class."
Keep in mind this new approach is not necessarily geared toward those who are at risk — it's a supplemental way to help students thrive in a particularly tough class.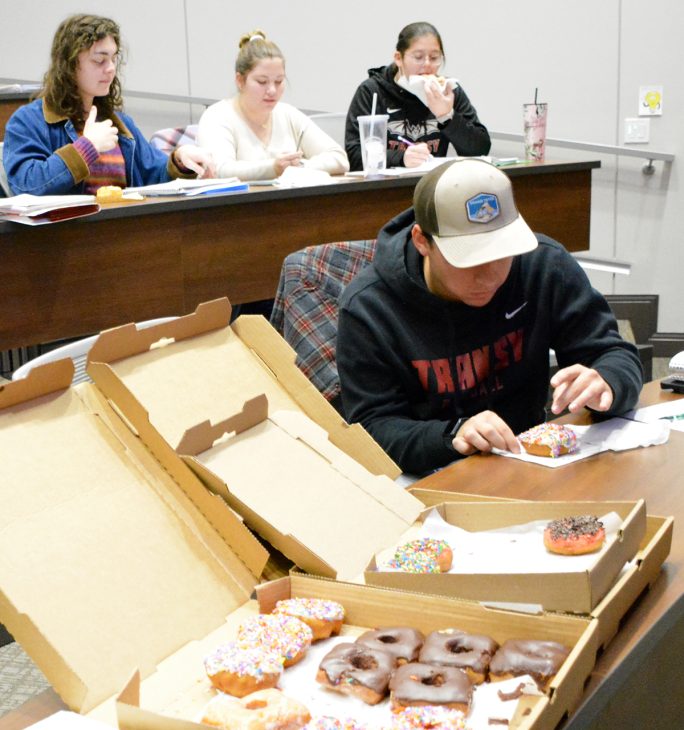 "They need to up their game from what they did in high school to stay successful in college," Scroggins said. They find out learning is often better in a group, guided by peers who've already tackled the content.
Scroggins also noted how the fellows engage students with the material in an active way, and many come back regularly.
Math professor Ryan Stuffelbeam is participating through his Functions class, taken mostly by first-year students before Calculus I.
"A primary benefit is the ability to offer enrolled students additional specialized tutoring in a low-stakes environment," Stuffelbeam said. "Moreover, the fact that the forum is being run by an upper-level student gives participating students a chance to work and learn from a peer."
Additionally, Stuffelbeam said the sessions give the fellows experience teaching in a structured environment in front of a class. "In my opinion, the forums benefit the enrolled students as well as the tutors — very much a win-win situation."
These paid fellows have been tutoring for at least a year and have taken the targeted course in the past. They also enroll in a quarter-credit Pedagogy Practices class, which helps them design the forums and hone learning strategies.
One of these fellows is Kanika Chopra '24 (top photo), previously a chemistry drop-in tutor. "I was interested to further test myself in my abilities to present and explain the material in a way that was helpful but also approachable for students," she said, adding that the sessions allow them to go over material in the chemistry course in a way that's easily approachable.
"General chemistry, especially at a high-caliber level like that of Transy, can be difficult as it represents the challenge of understanding microscopic details about the molecular level but trying to apply it to life as we see it," Chopra said. They're getting the perspective of someone "who was in their place only a few years ago, which builds their understanding (and hopefully love) of chemistry."