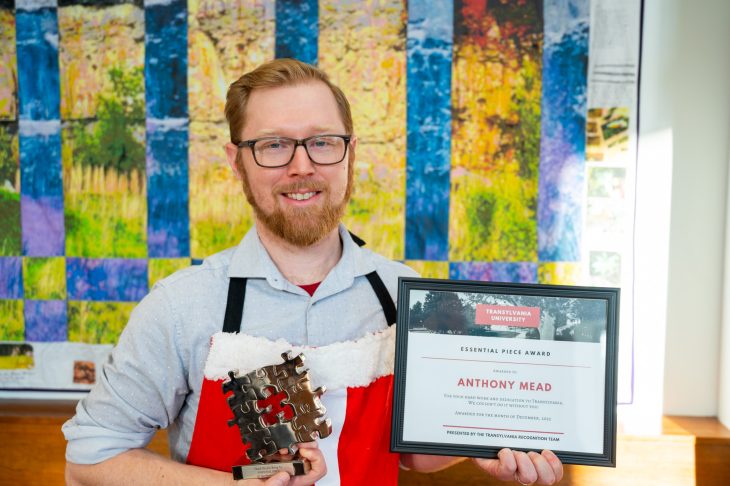 Morlan Gallery director Anthony Mead recently received the December Essential Piece award at Transylvania's Holiday Sweater Contest and Cookie Exchange. This award, given by the university's Recognition Team, honors staff members who exceed expectations and are essential to Transy's operations.
Mead, who received multiple nominations, was praised for his consistent positivity and helpfulness, as well as his nimbleness in pivoting from in-person to online exhibits during the height of the COVID pandemic.
Said one nominator of Mead, "He doesn't just install art in the gallery and hope people come to see it — he works closely with our faculty to design meaningful classroom visits that build art into the curriculum."
Mead supports diversity and inclusivity on campus by consistently spotlighting work that covers a wide array of themes and is created by a diverse group of artists. Under his leadership, the gallery has hosted recent installations including "Mnemonic Devices" and "Missy Johnston: A Fitting Retrospective."
Nominations also mentioned Mead's emphasis on supporting student artists. In addition to his work designing and building functional and beautiful online gallery exhibits to share student artwork during lockdown, he is currently spearheading an initiative to increase the visibility of student artwork in buildings across campus, including the Carpenter Center, Campus Center and Old Morrison Chapel.
Mead's commitment to cross-campus collaboration and dedication to elevating student artwork make him a worthy recipient of the Essential Piece Award. As one of his nominators said, "He is a champion of art integration and is doing a fantastic job of engaging the campus community."