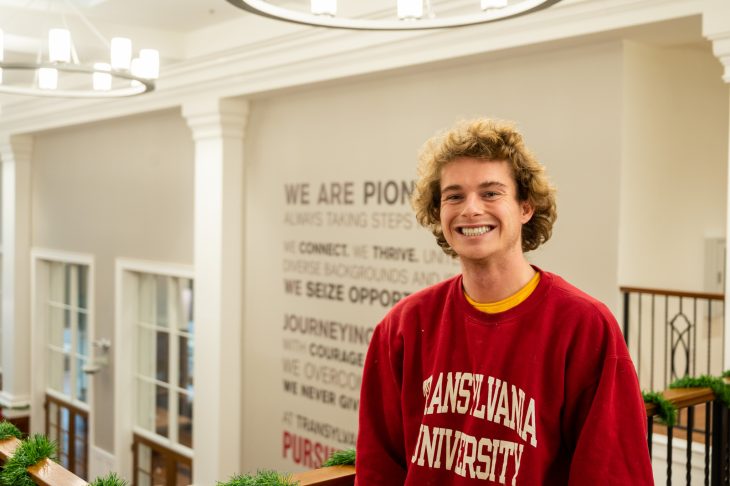 When Philip Priest was considering colleges, Transylvania University was a clear contender. Several of his family members had attended Transy in the 1940s, and Priest knew he wanted to go to a small college and thought it made sense to consider the one in his hometown. However, the Lexington native visited campus three times before making the decision to attend.
His first campus visit took place as part of an internship program through Henry Clay High School. "I remember standing on Old Morrison's steps and seeing Gratz Park and the 'Big Blue Building' and realizing what a beautiful view that was," he recalled. "That was the first time I realized I might want to go here."
On his second, overnight visit, Priest remembers going to a swim meet with then-members of the Transy tennis team and thinking about how cool it was to see athletes supporting other athletes.
But it was his third and final visit to campus that sealed the deal. Priest recalled walking through the library with his mother and seeing students hard at work doing calculus. At that moment, he remembers thinking, "I could see myself here."
Once on campus, Priest also began to see the city he had always lived in from a completely different perspective. "For me, the biggest surprise was how Transy really did feel like a bubble," he reflected. "I really didn't feel like I was in my hometown. I felt like I was in a different community surrounded by different people."
A history major with a minor in religion, Priest matriculated as a biology major but quickly realized it wasn't the right fit. While history had always been one of his passions, he chose his minor after taking an Introduction to Religion course during his first year at Transy. After that initial course, "I kept taking religion classes whenever I had the opportunity because I was so interested in them," he said.
When asked who at Transy has made the biggest impact on his life, he paused and said that he could easily include all of his professors, but especially professors Barnsley, McEuen and Ribovich, citing their enjoyable and engaging teaching styles. "They always embraced me for who I was," he explained. "I always felt heard in their classes."
Now in his last year as an undergraduate, Priest is involved on campus as a writer for The Rambler, a member of the Student Activities Board and a member of the Kappa Alpha Order. He noted that one of his favorite things about Transy is seeing SAB at its best, reflecting on how much he enjoyed recently serving ice cream to his fellow students as part of Stress Fest. "I feel like it's the one organization on campus whose main goal is to get everyone involved," he said.
As a senior whose second semester of college was impacted by the COVID-19 pandemic, Priest is particularly appreciative of campus involvement. "With COVID, everything paused, so it's good to see things resume," he said, specifically mentioning Pioneer Palooza, a student activities fair in Back Circle at the beginning of each academic year. "I remember that from my freshman year, so getting to see it return this year in full effect was cool," he said. "It was special to get to see a turn of the page."
As graduation approaches, Priest looks forward to becoming part of the alumni network. "The Transy community becomes bigger once you graduate," he said.
He also acknowledges the critical role that those alumni, as well as other donors, have played in the beautification of campus over the past several years. When he began his college career, construction was underway on the William T. Young Campus Center. "We have a beautiful student center now, and there's always new stuff coming," he said. "I know that comes from donors. They play a huge role in the university."
After graduation in August 2023, Priest plans to teach high school history with the ultimate goal of becoming a school administrator. He recently submitted his senior thesis focusing on the history of hemp in America. In a full-circle moment, Priest noted that Lexington used to be a major player in the hemp industry. The locals involved were some of the wealthiest people in the city — and they lived in Gratz Park.
As 2022 concludes, your donation to Transylvania University can help students like Priest have life-changing educational experiences. There are many ways to donate, including gifts of appreciated securities and IRA contributions, as well as direct donations via check or credit card. As part of this year's "Raise the Bar for Transy" challenge, new donors or those who increase their gift from the previous year will have their donation tripled. Those who opt to renew last year's gift will have their contribution doubled.
To count in the 2022 tax year, gifts must be postmarked or submitted online by 5 p.m. on Dec. 31. If you have any questions about how to give, potential tax benefits of giving or how to donate stock gifts, contact giving@transy.edu or call 800-487-2679. Transylvania thanks all of those who have given generously of their time and money to support student success.