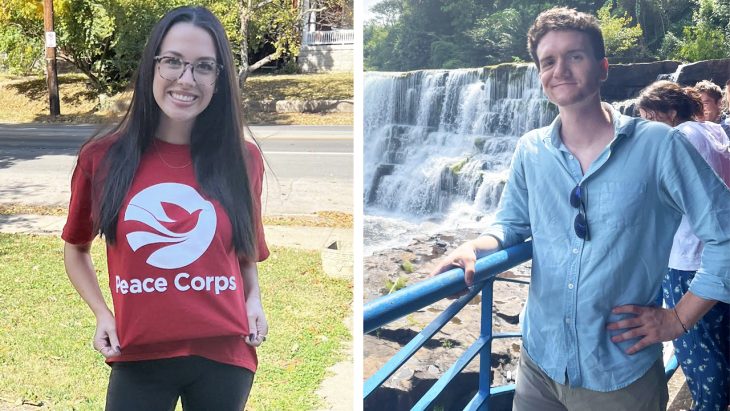 Clay York '21 and Langley Sebastian '23 are the most recent Pioneers to volunteer for service in the Peace Corps.
York (pictured right), a political science major with minors in English and philosophy, is currently stationed in Guinea. He will be teaching math to students in grades 7-10 in the village of Friguiabè in the Kindia region once he completes his initial training.
Sebastian, an international affairs major, will leave for her placement in Cameroon in June 2023. After her three-month stint in training, she will serve as an agricultural extension volunteer.
Both credit Transylvania political science professor Steve Hess for their interest in the program.
Hess "was the individual who introduced me to Transy's Peace Corps Preparedness Program, which was very beneficial during the interview process, and was the first person who got me to consider joining the Peace Corps after graduation," York said. "If it weren't for his influence, I likely would not have decided to join."
Although she had considered joining the Peace Corps in high school, Sebastian agreed that Hess's influence both as her adviser and as a former volunteer for the Peace Corps China was instrumental in her decision as well.
York also acknowledged the role that his history of volunteerism with his family and DOC-affiliated church, as well as his engagement with philanthropic activity as a member of Delta Sigma Phi, played in his decision to serve. "I have also always enjoyed traveling and forming meaningful bonds, so joining the Peace Corps was a natural choice to continue this trend," he added.
Sebastian's college internship — working with Kentucky legislators to advocate for international food security through the Borgen Project — also impacted her desire to help farmers who are struggling with the impact of climate change on irrigation systems. "My main goal in this position is to promote food security and to help the community have enough food," she said.
While nervous about leaving friends and family behind for two years, York looks forward to forging camaraderie with the host country nationals at his site, as well as "fully embracing a new culture that is very different from the one I was a part of back in the U.S."
Sebastian also looks forward to forming connections with her fellow volunteers and host country nationals. "The main goal of the Peace Corps is to promote relationships abroad," she said. "I'm helping them, but they are going to be helping me a lot along the way as well."