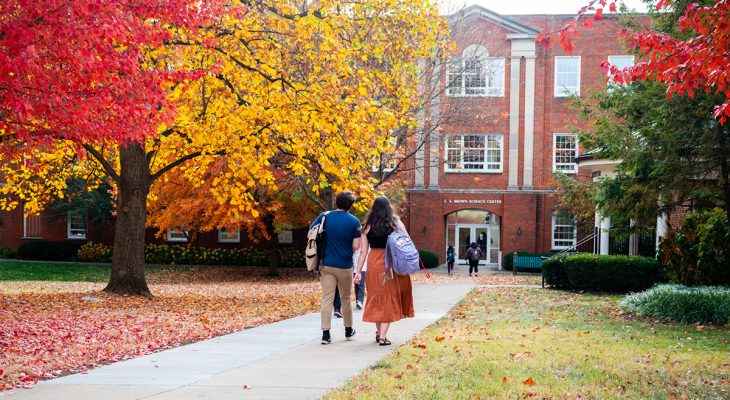 As we enter the holiday season, our minds turn to the many blessings and gifts in our lives. At the top of my gratitude list is our Transylvania community. I am thankful for our current students, faculty and staff, who have weathered the difficulties of a global pandemic along with their own individual challenges, while continuing to achieve great things. I am thankful for our liberal arts foundation and distinctive 242‑year history, along with our alumni family, and I am thankful for the bright future of our university.
While today's environment is uncertain in many ways, Transylvania University is not just surviving but thriving. Our enrollment numbers continue to grow, bucking nationwide trends of decline, and admissions applications have increased for the class of 2027. Our current students are engaged in both academic and extracurricular activities with new programs and opportunities expanding for them regularly. Our beautiful campus looks better than ever, thanks to the excellent efforts of our facilities team and the completion of recent construction projects.
We offer our students distinctive academic experiences. In 2022, we were fortunate enough to host two U.S. poets laureate on campus. After a pandemic‑related pause, study abroad opportunities have returned, and our undergraduates are once again able to engage in experiential learning. This fall, we launched embedded learning forums, a form of supplemental instruction intended to improve student success in historically difficult courses, and early results are promising. We also added a new minor in medical humanities while redistributing our international affairs major into three tracks — diplomacy, development and comparative culture. These curricular changes will make our students more thoughtful and competitive candidates in a rapidly evolving job market.
Outside of the classroom, our students are excelling — for instance, earlier this month, we hosted the NCAA DIII women's volleyball tournament, in which our Pioneers advanced for the first time to the Elite Eight. We recently saw the presentation of the first member of a historically Black fraternity formally recruited on our campus. And I had the exciting opportunity to revisit my own love of theater by sharing the stage with our exceptionally talented students in the recent Transylvania Theater production of "Little Women."
Our Transylvania community continues to shine brightly, and I'm immensely thankful for the efforts of each person who contributes their passion, energy and resources to the continuation and growth of our university. Through our combined efforts, Transylvania is well positioned to experience a bright future, passing on the light to generations of Pioneers to come.
May you and your loved ones stay safe and well this holiday season.