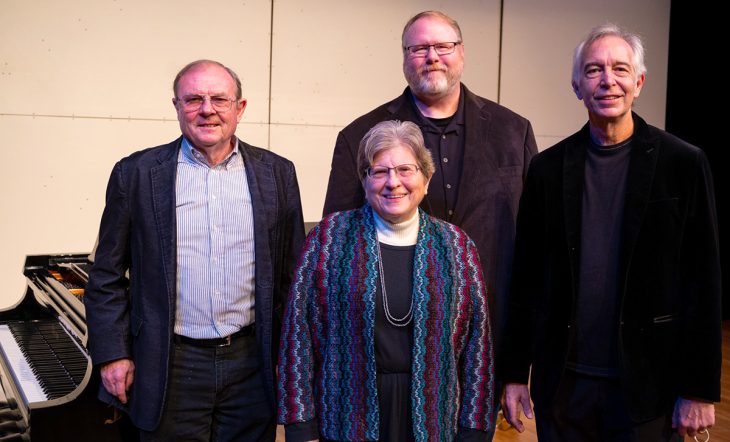 Four of the six pieces performed at a recent Composers Concert for the Kentucky Music Teachers Association annual conference were written by Transylvania University faculty.
Pictured (l-r), Larry Barnes, Barbara Rogers, Tim Polashek and Greg Partain — along with colleagues who helped perform their works — were praised for their showing at the event hosted by Campbellsville University.
Barnes, this year's KMTA Commissioned Composer, premiered his new work "Elegy for Liam Henry" with the assistance of Transylvania cello instructor Clyde Beavers for the concert finale. (The piece was actually produced through a joint commission with the Music Teachers National Association.)
The concert opened with another world premiere as the Eastern Kentucky University Singers performed "Eternal Spirit, Earth-maker, Pain-bearer, Life-giver," composed for them by Rogers. In addition to the two premieres, Partain, along with tenor Daniel Weeks of the University of Cincinnati's College-Conservatory of Music, performed excerpts from Partain's song cycle "Come to the Garden in Spring" based on the poetry of Rumi. Rogers also joined saxophone instructor Matt Polashek to perform his brother Tim's "Evening Psalm."
Matthew J. Herman, KMTA's chair of composer commissioning, sent a glowing letter to the school after the event. "The 2022 Composers Concert was well attended and warmly received, and I have heard numerous compliments from music teachers throughout the state," he said. "The composers and performers of Transylvania University are to be commended for their exceptional compositions and performances."
Find out more about Transylvania's music program.