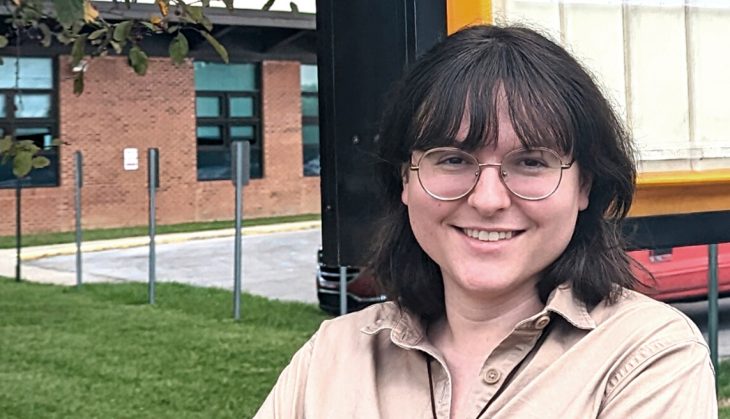 Transylvania University grad Rebecca Blankenship made history last week as the first openly transgender public official in the Commonwealth. Blankenship won a seat on the Berea Independent School Board as a write-in candidate.
Blankenship, who graduated in 2019 with a major in philosophy, politics and economics and an English minor, credits two Transylvania professors, Don Dugi and Jack Furlong, with her decision to seek election, noting that they "repeatedly encouraged me to consider running for public office. I am really grateful for that."
During her undergraduate years, Blankenship also served as news editor for The Rambler student newspaper, worked on WEKU's "Eastern Standard" and won the 2019 Judy Gaines Young Student Writing Award.
While Blankenship has served as a political volunteer for many years, this was her first time personally campaigning for office. "I ran because there were only two candidates filed for three seats and I was unsuccessful in recruiting somebody else to run for the third," she said. "I wanted to make sure my kids' school had somebody responsible on the board, and I felt I could do a good job."
Blankenship's political involvement doesn't stop at the school board. She works in communications consulting and nonprofit management, recently writing canvassing literature for the American Federation of Labor and Congress of Industrial Organizations and assisting with other Kentucky campaigns.
Blankenship also serves as the executive director of Ban Conversion Therapy Kentucky, a nonpartisan grassroots pro-LGBT advocacy group dedicated to public education and community-building.
When asked what her win meant personally, Blankenship responded, "I don't take much pleasure in being Kentucky's first openly trans elected official except insofar as it makes it easier for other LGBT people to imagine themselves being involved in politics, and for LGBT and questioning kids to imagine positive futures for themselves."
Blankenship plans to prioritize teacher pay, communication and transparency, as well as vocational education opportunities, during her term on the school board.