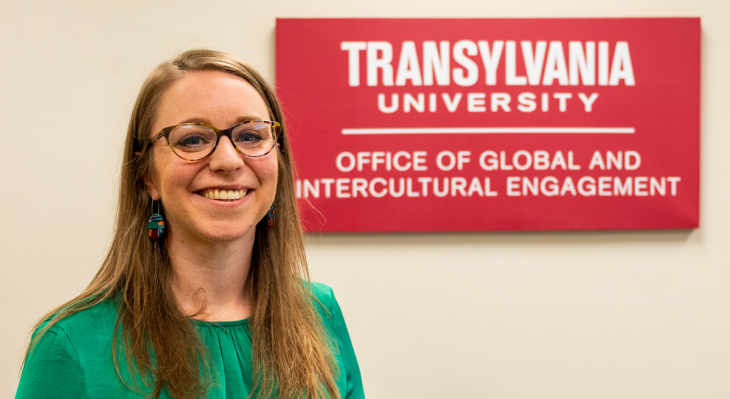 This is the first fall term Transylvania University students have been studying abroad in the past two years, and the campus community is excited about what future journeys are in store — from winter break in Zanzibar to a May term theater class in Berlin.
Helping them in their studies abroad is the school's new director of global and intercultural engagement, Rachel Wilson, who's a 2007 graduate with a wealth of experience in international education.
While there's a great energy at Transylvania for this, the school is in the process of rebuilding its study abroad culture, Wilson said. Because of the travel restrictions of the past couple years, there aren't as many students around who can share about their experiences in other countries. The first large group (12 students) studied abroad this past summer, and seven are doing so this term.
The lack of peer resources puts even more emphasis on Wilson as a go-to for those interested in studying internationally, as somebody who can help turn their positive enthusiasm into action. She encourages students to meet with her to figure out what's best for them. "There's no one-size-fits-all experience," said Wilson, who can be reached at rawilson@transy.edu. (Learn more about what her office has to offer.)
Transylvania students can also explore their opportunities at campus events like a passport expo and mocktail mixer during International Education Week from Nov. 14-18.
Wilson, a Spanish major, herself studied in Spain as an undergraduate and interned with the Parliament of Canada. Then she earned one master's degree in Hispanic studies from the University of Kentucky and another in international relations from Syracuse University. Wilson also interned at the Washington, D.C, Institute of International Education and spent the last decade in Bogotá, Colombia, working with academic mobility and international higher education programs at the Fulbright Commission and the U.S. Embassy.
She well knows that those who study abroad benefit when they experience the world in unfamiliar ways — the new perspectives and ideas they gain tie into the school's liberal arts mission. They see how there's no one right way to go about things, whether that be how you cook your food or which side of the road you drive on.
In addition to promoting the value of international education, Wilson helps with logistics like passports and health info for those traveling. She also collaborates with faculty on projects and partnerships in other countries and ensures students are informed about internships, volunteer and graduate school opportunities.
Wilson noted how she'd like to see students study abroad early in their college career and then come back and spread the word about how great it was (maybe even become a peer ambassador).
Also, the pandemic taught us that we can't always put things off and expect them to be there for us in the future.
"Don't wait until your senior year," Wilson said.