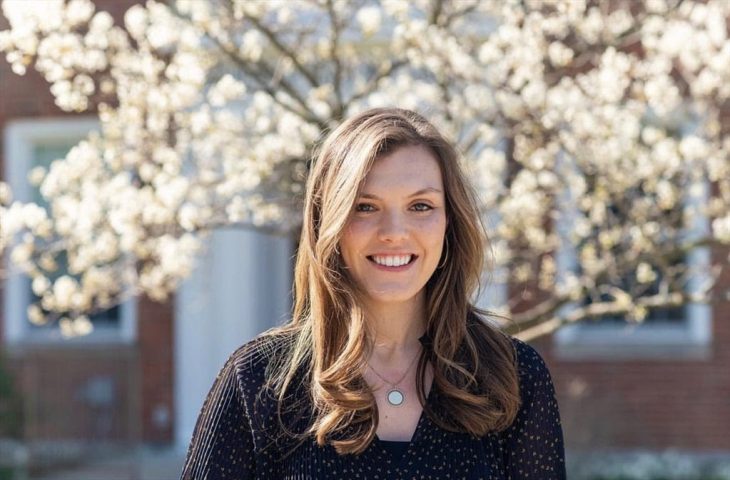 Taylor Smith graduated from Transylvania University in May of 2021, and by mid-August, she was back on campus — not for a last-minute fifth year, but as the administrative assistant for the Center for Academic and Professional Enrichment.
Smith had pivoted from her original plan of law school and decided to pursue her true passion: history. Knowing this would mean a gap year, she took the opportunity to apply for the position at Transy, where she remains despite the fact she is now enrolled in a master's program at the University of Kentucky. Smith said she was surprised at how manageable it is to work full time and take three graduate courses; she also noted she was grateful for the chance to separate herself from studying.
Another perk Smith shared of being a Transylvania employee while in graduate school is the proximity to her professors. "Being on campus is great because I am able to keep up the relationships I had with my undergrad professors to update them and ask advice — our conversations are always beneficial. I want to go into academia … so being on campus and watching it operate from another point of view is a learning experience in itself."
Smith also spoke on that "other point of view" and what it's been like to shift from being a student to staff. "I have a newfound appreciation for all the little details that make the students' experience easier," she said. "As a student, I felt like I could only focus on my academics and extracurriculars, but now I understand that it takes the effort of the entire campus and some people students never even meet to keep campus afloat."
However, that focus on academics has paid off for Smith. "I really thought everyone was joking when they told me graduate school wouldn't be so bad after attending Transy. Yet, they were correct. My confidence in my intellect and capability has skyrocketed, in part because I was so prepared for my studies at Transy."
After graduation, Smith plans to pursue teaching. She's most interested in the collegiate level, yet is open to high school as well. "What I care about most is helping students to receive the education they deserve," she said. "History is a subject that often gets discarded as boring and seen as only dates and facts when in reality it is a tool that not only helps us to understand our current identities, heritage, culture and society, but also our future."
For the fellow history buffs out there wondering what her area of interest is, Smith said: "At the moment, I plan for my research to focus on historical memory through visual arts. In a general sense, I will most likely end up comparing Europe and the United States in terms of how memory is constructed and conveyed through WWI and WWII monuments and memorials."
Finally, Smith added, "When I interviewed, everyone was so nice and kind, and I could tell that the work environment was a healthy one that could support me. As a recent grad, life is confusing and difficult, so I knew coming to work and enjoying myself while there was important. Time and time again this has proven true." Smith is just one of many alumni who began their careers back at Transy, proof that it's an institution that invests in students and alumni.
CAPE for alumni
Transylvania alumni can volunteer as a 100 Doors mentor or donate to the Career Closet, which provides students with business and business casual clothing for interviews, internships and jobs. CAPE also offers its resume, cover letter, interview prep, job search and graduate school search assistance to alumni. If you'd like to get involved, donate clothing or ask for professional advice, reach out to the office at cape@transy.edu.
---
Danielle Evans-Clan '17 is Transylvania's associate director of donor engagement.