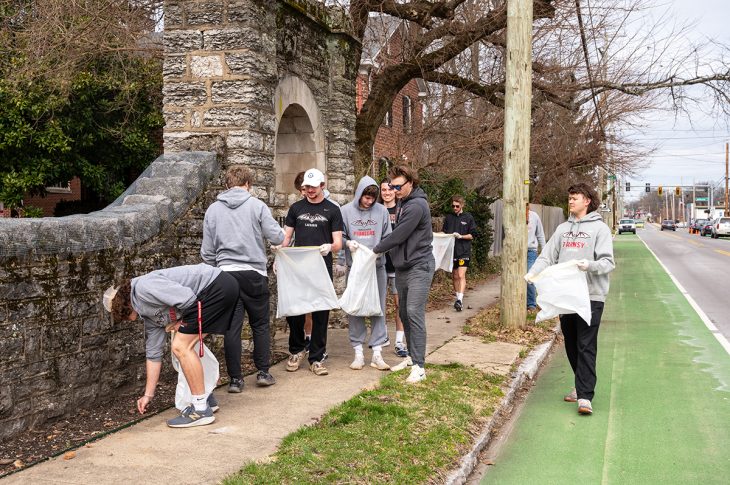 This article appeared in the most recent issue of Transylvania's Third & Broadway magazine.
---
From embracing their inner "Magnum, P.I." in November for male health awareness to picking up trash off the streets during a neighborhood clean-up in March, Transylvania University men's lacrosse team members are dedicated to year-round campus and community service.
This spirit of engagement not only helps them achieve success on the field through team building, but it also instills positive values that will resonate for years to come.
"We really preach an attitude of servant leadership," head coach Logan Otto says. "We want these guys to be great fathers, coaches and leaders in their community."
Otto was recently recognized for these efforts with the university's Presidential Award for Community Service. According to President Brien Lewis, "It is clear that service is just not a word to use in recruiting for coach Otto, but something he believes in and is passionate about himself."
Through the coach's guidance, the lacrosse program has raised more than $20,000 for Vs. Cancer, a campaign of the Pediatric Brain Tumor Foundation. These proceeds are split between the national foundation (for pediatric brain research) and the local Kentucky Children's Hospital. Each fall, players raise awareness and money by setting up fundraising webpages and through social media campaigns.
Otto looks to expand participation in Vs. Cancer by getting other Transylvania teams involved; he's a member of the Lacrosse Vs. Cancer Ambassadors, a nationwide group of coaches and others dedicated to spreading the word about the program. "It's been our flagship community service project," Otto says.
Another project — this one already embraced by multiple teams each November — involves athletes growing mustaches and fundraising for Movember, which collects money to support men's well-being in areas like mental health and prostate and testicular cancer prevention. Over the past two decades, Movember has raised funds for more than 1,250 projects globally, according to the organization.
Lacrosse standout Bryce Lowe '22 says he grew a "really nasty" mustache for the cause.
He pointed out how a service project like this builds team unity while helping others. "It grows us together as a unit," he said. "You think of a team, it's a cohesive unit." Players who bond are those who function together for a common goal, that is, winning.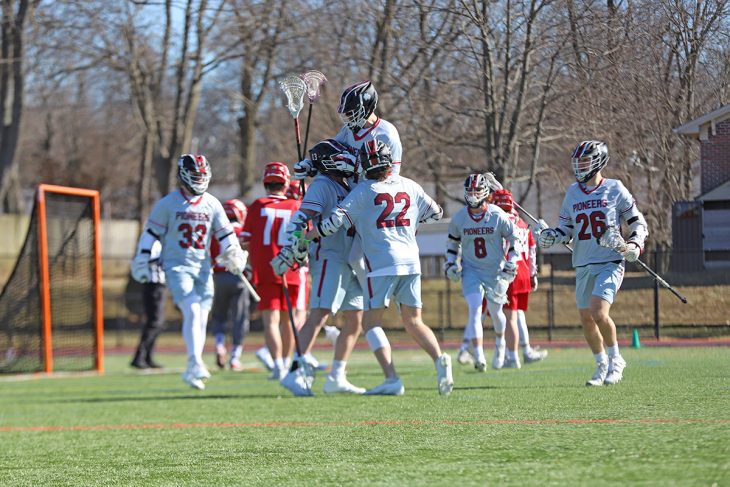 Lowe also valued the opportunity to work with teammates during litter clean-up efforts on and around campus — they were a chance for players to connect in a setting that's different than the field or classroom. "You get to hang out and be yourself and spend time with them while doing something good," he says.
Plus, people out in the community see the team doing good work during the clean-ups, which started under former coach Terry Justice. Otto notes how people living around Gratz Park on the other side of Third Street from campus came out to thank them for picking up litter.
"It's nice to see your work appreciated, and we've got such a great, tight-knit community," Otto says. Helping to make it a better place fosters a connection to something larger than a team or school.
"This is something that I don't have to make a mandatory thing," Otto adds. "They jump at these opportunities; as a coach it makes you proud. Go above and beyond — that's the Transy way."
The showing of appreciation goes both ways with these lacrosse players. They also participate in the One Kind Cookie project, where they package thousands of cookies that go to local firehouses and police stations — an act of kindness and gratitude toward first responders. They also take leftover cookies around to campus faculty and staff as a thank you to them as well.
Additionally, these Pioneers donate gear to a nonprofit Otto runs called For Keeps Lacrosse, which gives the items — including expensive sticks and helmets — to youths who are interested in the sport but can't afford the equipment.
These acts of good will also help promote lacrosse in the Lexington community, which in turn can benefit Transylvania's programs. The sport has been capturing the interest of local youths more and more in recent years.
Evan Deskins '22 benefited from the growing local lacrosse scene, playing for Paul Laurence Dunbar High School before coming to Transylvania. He feels strong ties to Lexington and wants to give back through the team's service projects. "Being from Lexington is definitely a big motivator," says the defensive player.
The tight bonds between his team and Lexington help encourage his volunteerism. For instance, the fathers of some of his fellow players are police officers, which inspires his participation in the cookie program. "Having that personal involvement and knowing those people, I'm motivated to get involved in my community," Deskins says.
(He also notes that even his teammates who aren't from Lexington eagerly pick up on the community spirit vibe.)
This ethos is an important part of Transylvania Athletics as a whole, says Holly Sheilley, vice president for athletics. "We have been blessed with many opportunities, and giving back is our way to pay it forward. Coach Otto and his team are an inspiration to us all. It is more than just wins and losses — it is teaching student-athletes lifetime values."